For a year I worked next to a Colombian architect who had emigrated to US in search of a better future for his family. He was always focused on work, set on achieving the American Dream, and I was always on the way begging him to tell me about his homeland. I remember him finally giving in and showing me photos of jaw dropping beaches. One day I would visit, I told him. He never took my words seriously. It was early 2000 when Colombia was somewhat of a no-go zone, thanks to its reputation for drugs and violence.
2015. I arrived in Bogotá with very limited knowledge of Colombia and none about the city itself. R&B admitted that they didn't even know Colombia existed. Gabriel García Márquez, Pablo Escobar, great coffee and FARK was all I had. Isn't it interesting how we all formulate key words for different countries? Well, people usually draw a blank face for Bulgaria followed by an uncomfortable pause. Poland on the other hand always brings out a huge smile. How can you compete with the Papa after all?
But back to Bogotá.
After two weeks of exploring the city I can compare Bogotá to this new to me fruit I am holding in my hand. On the outside it seems a little plain, but once you cut the skin and open it, it is brilliant orange inside, juicy and delicious. What a surprise!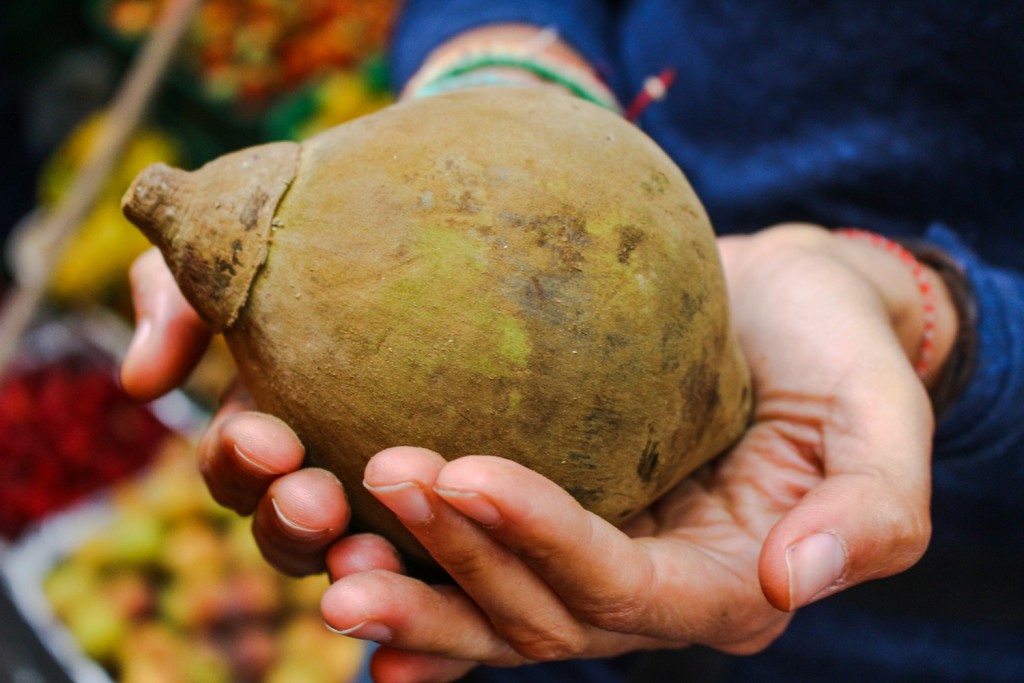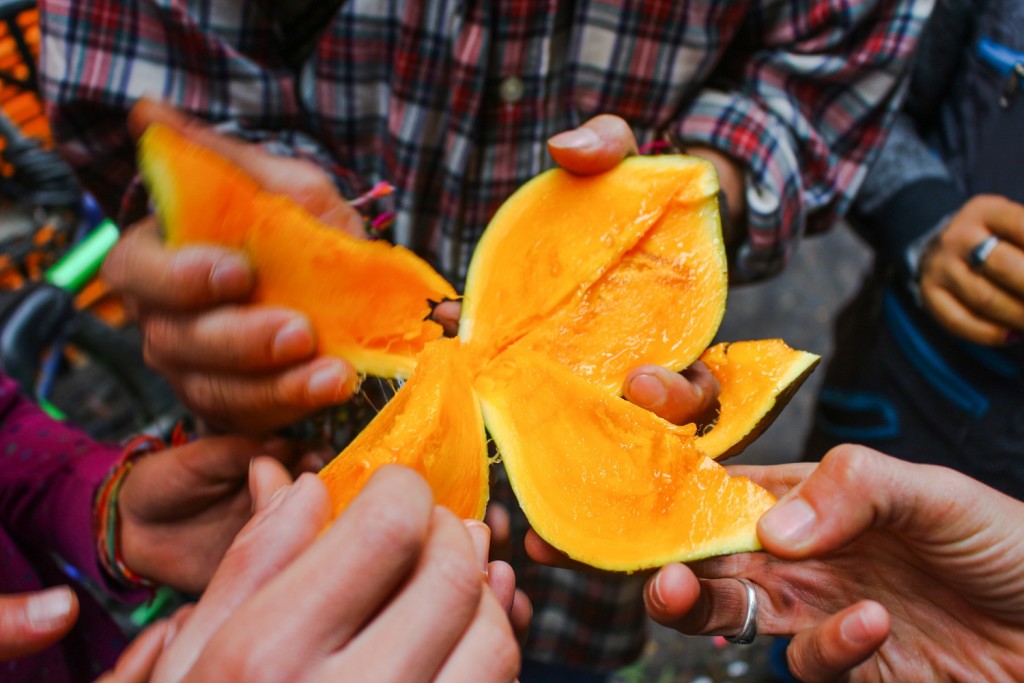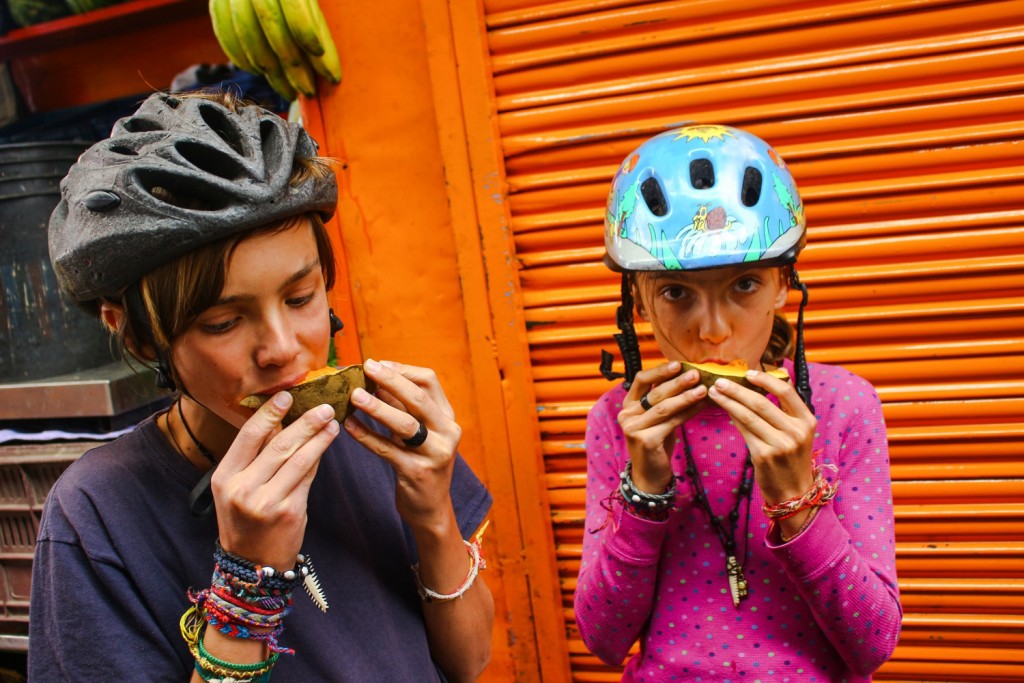 To get a feel for all of Bogotá one has to climb the 3.125 m Cerro de Monceratte, a pilgrim destination but also a great place to zoom out and experience the city in its entirety. To the East the capital is hemmed by the lush vertical green of Monceratte, but the rest of the flat plateau is knit in a mosaic of monochromatic urban fabric stretching from horizon to horizon, taking all the space available and spilling behind the distant hills, out of sight. 7 mil people or more call Bogotá home, same as the population of Bulgaria, probably even more as the city is constantly growing.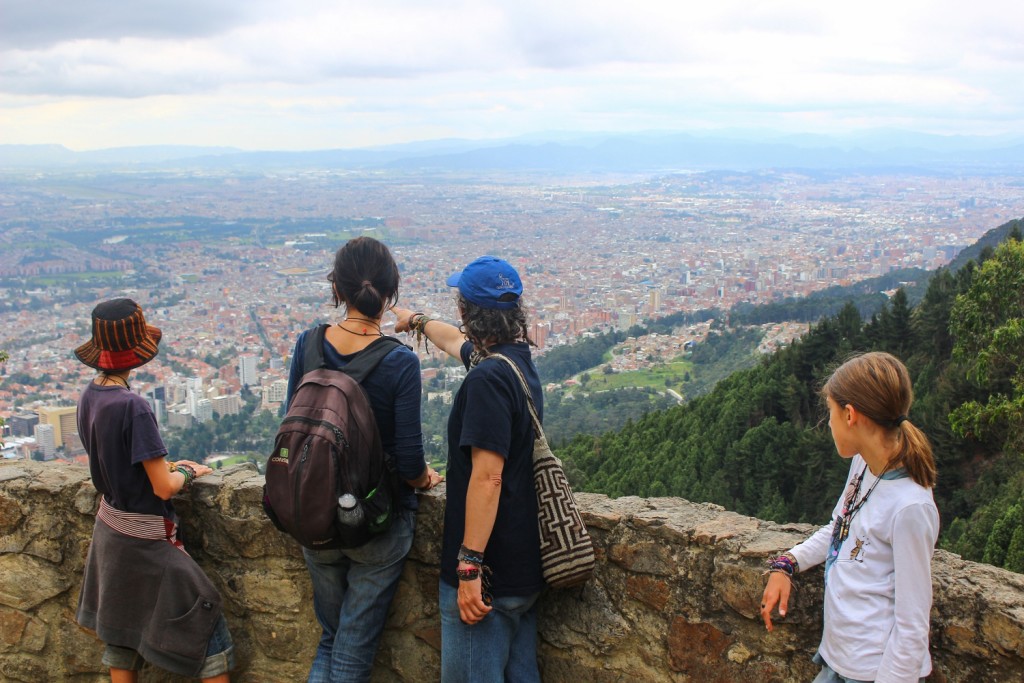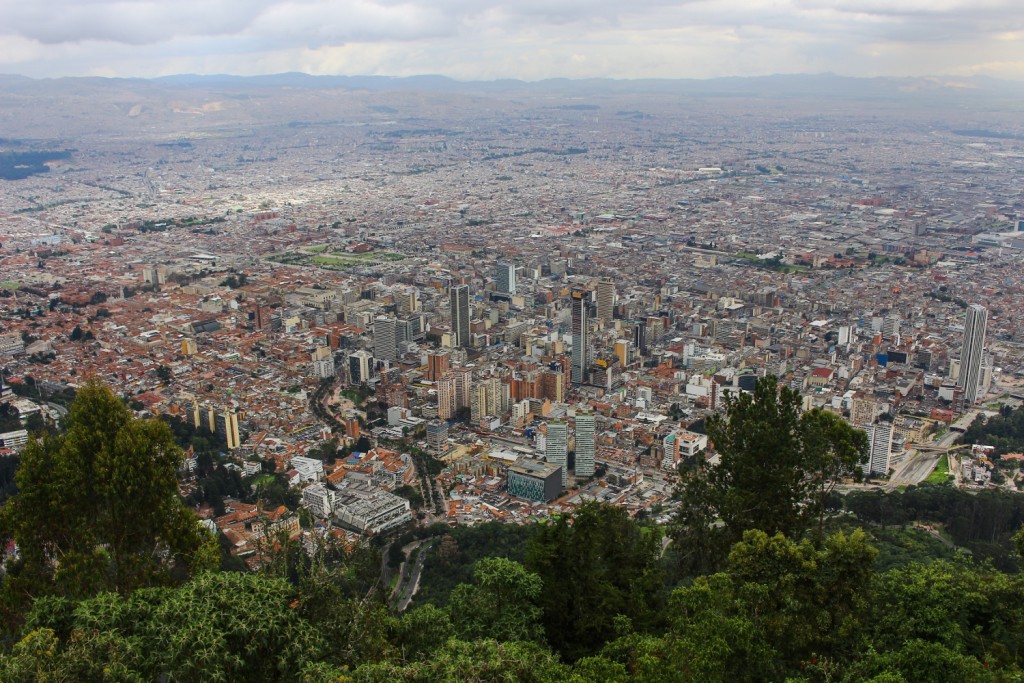 To the South-West is Ciudad Bolívar, the poor and dangerous urban slum which population swells steadily. We got a glimpse of that part of the city by taking the wrong bus from the airport. You could imagine the faces of the locals when they saw a family of gringos getting off a bus in the much feared part of town. A local shop keeper loaded us on a taxi and sent us back towards the center. The North part of town on the other hand is fancy and affluent, a complete opposite. In the mornings there is a movement of workers from the South to the North and then back to the South in the late afternoons. In between those two polar opposites what stands out is the National University – a city in itself – buzzing with life, activity and interesting things to see and experience; Park Simon Bolivar which was our kids favorite spot; leafy middle class neighborhoods and ton of urban grayness, of course.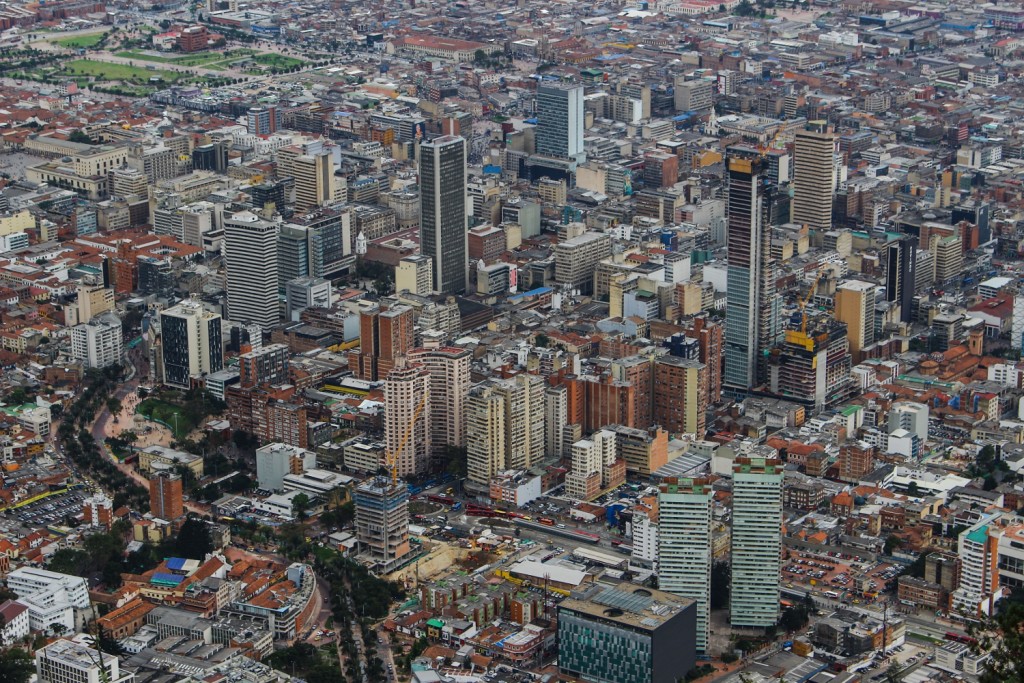 What are the words that come to your mind looking at the photos above? Monochromatic, concrete, stark?
Like any big city Bogotá is all those but more. Once you zoom in you will find tons of color and vibrancy, starting of course with the old town – the heart of Colombia's capital.
La Calendaria
Once you step foot in La Calendaria you will forget you are in a city of millions. The oldest part of Bogotá had retain its feeling of an old colonial town – small and cozy, with colorful streets meant for walking and exploring. The area is home to many restaurants, galleries, libraries, museums, theaters and hostels.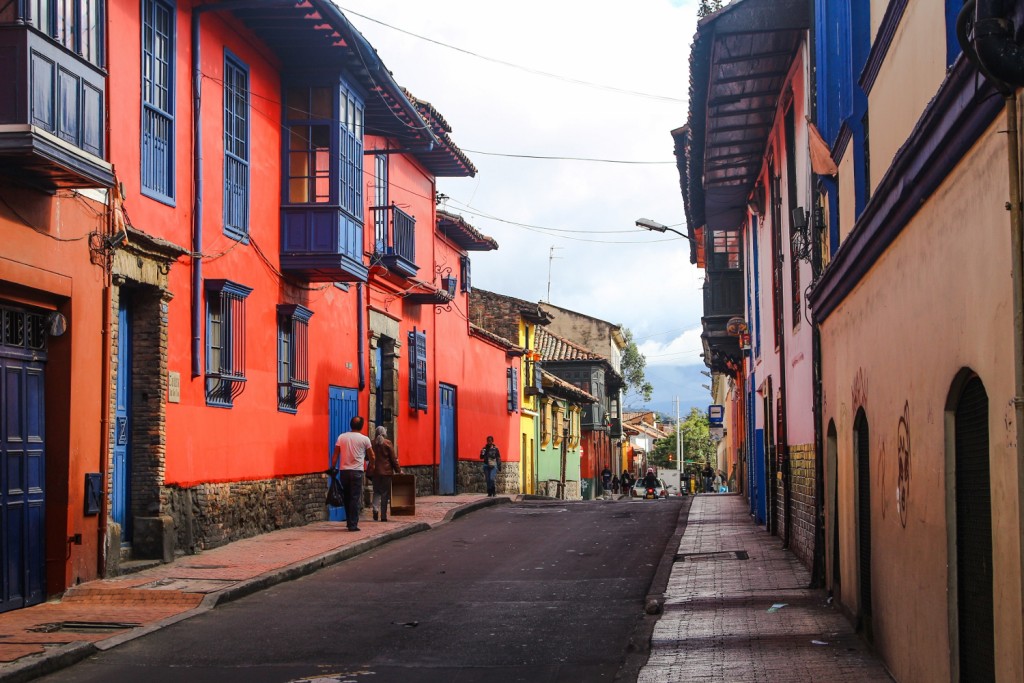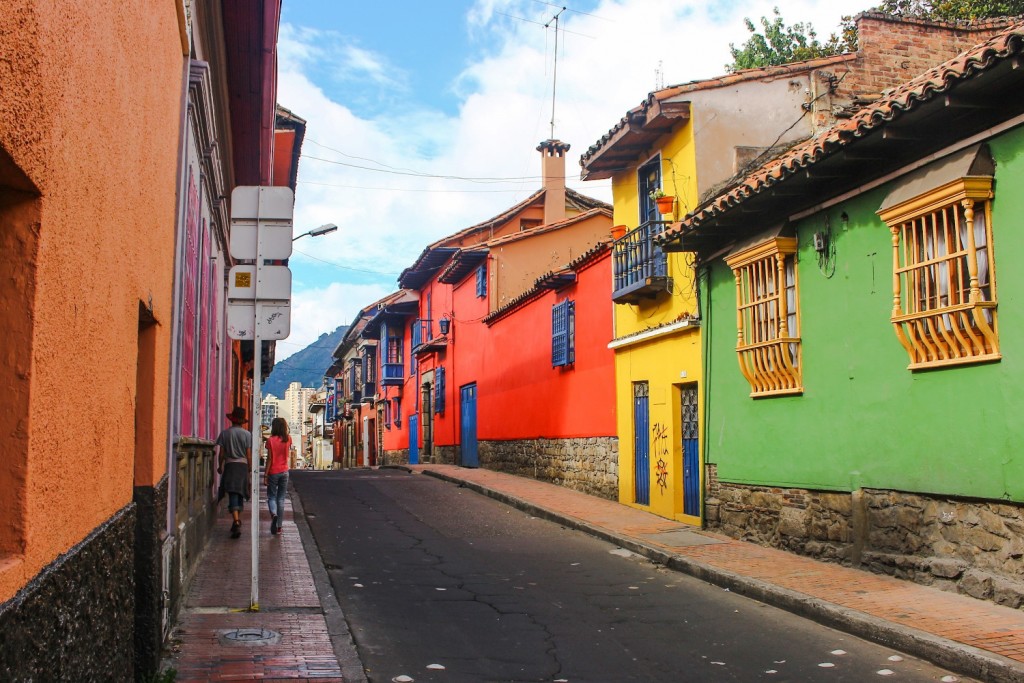 Before choosing Explora Hostel we checked a few others, all set in beautifully restored old houses. I loved the mix of old and new and that every place we saw had a distinct artistic style, something that was rare to come across in Peru or Bolivia. Explora had plenty of spank and character, natural light, great showers and minimalist interiors.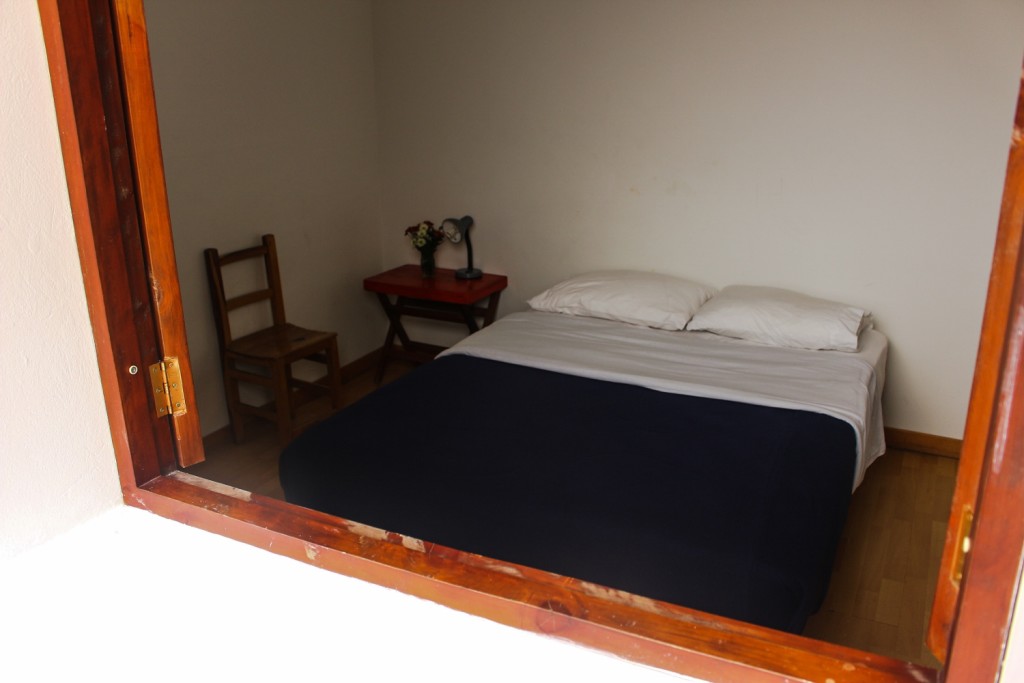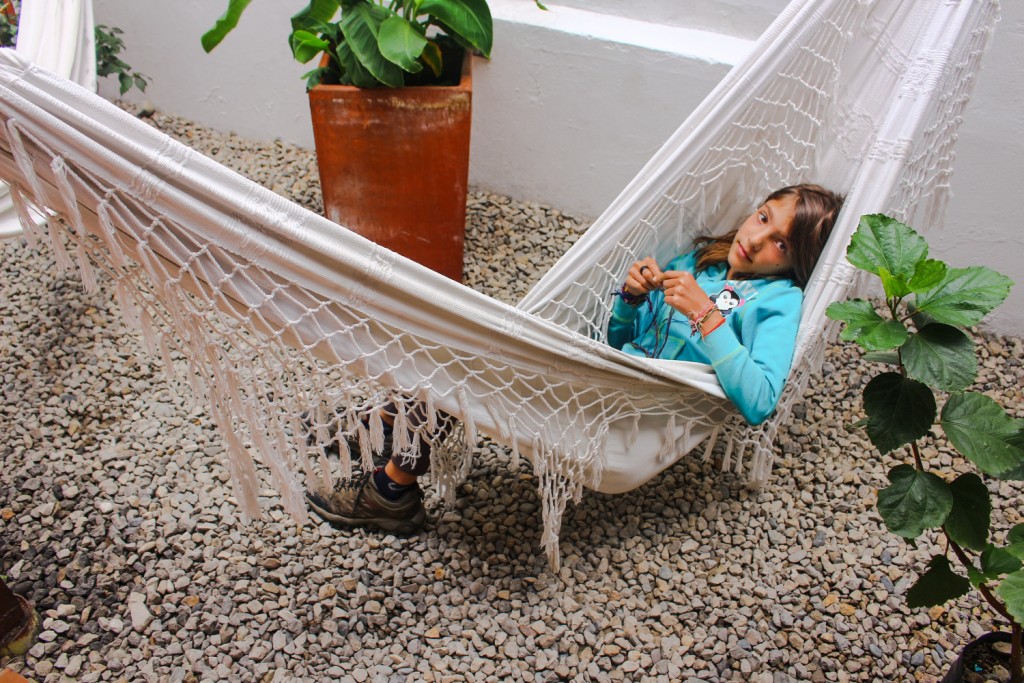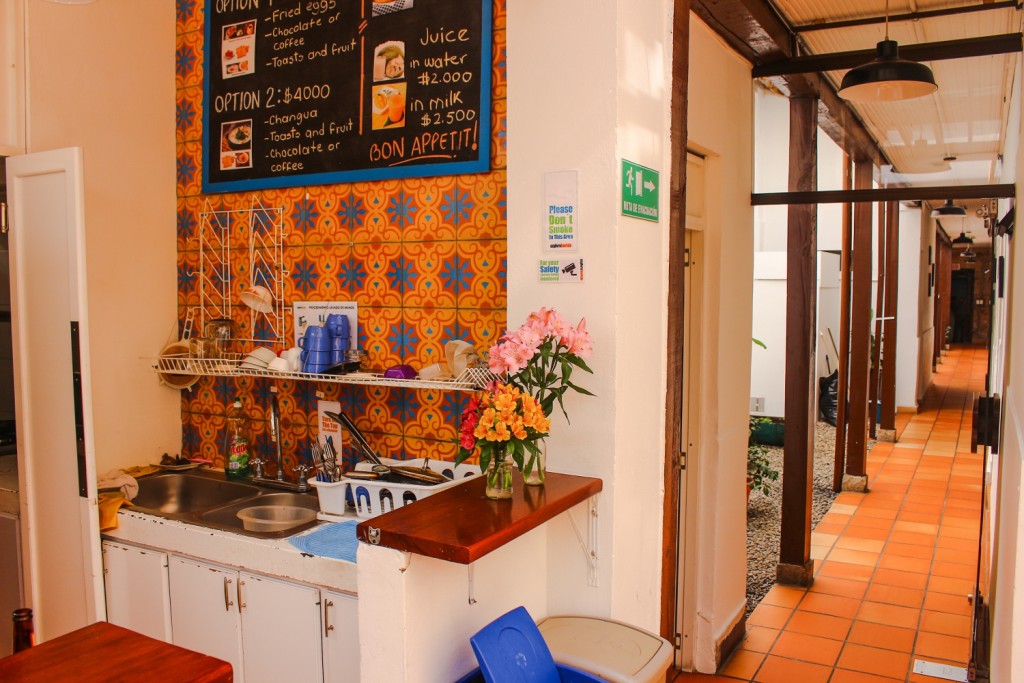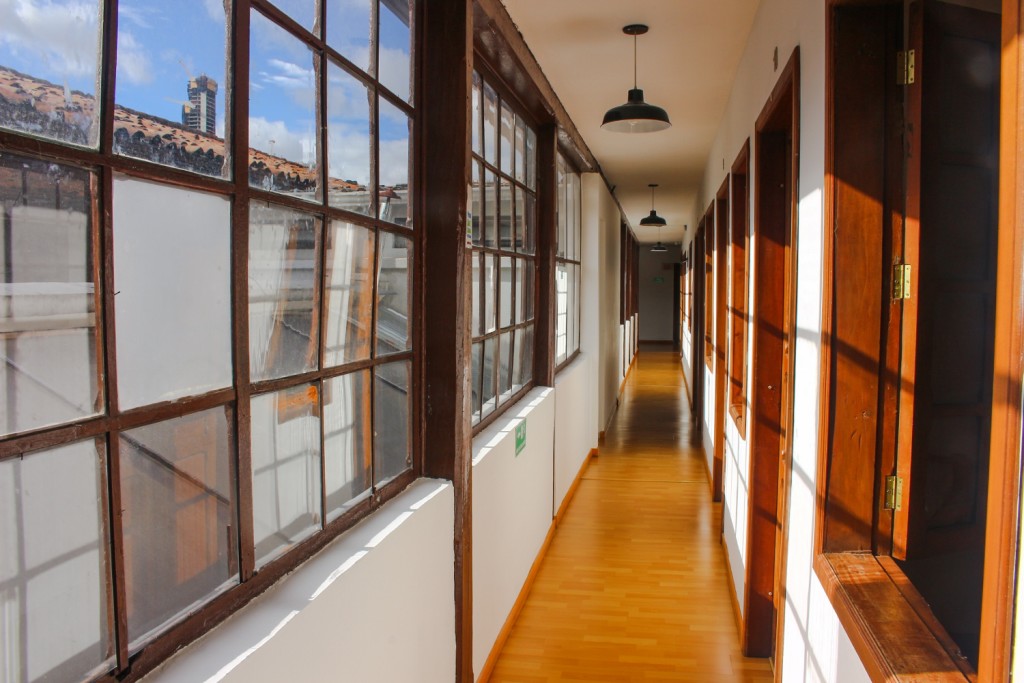 Walking the streets of La Calendaria one can't fail to notice that many of the old houses are painted with graffiti that are closer to pieces of art rather than a bunch of colors quickly scribbled in the dark. Those graffiti haven't been repainted or vandalized with time because the local community has embraced them as an essential part of its identity. Here is just a sample ~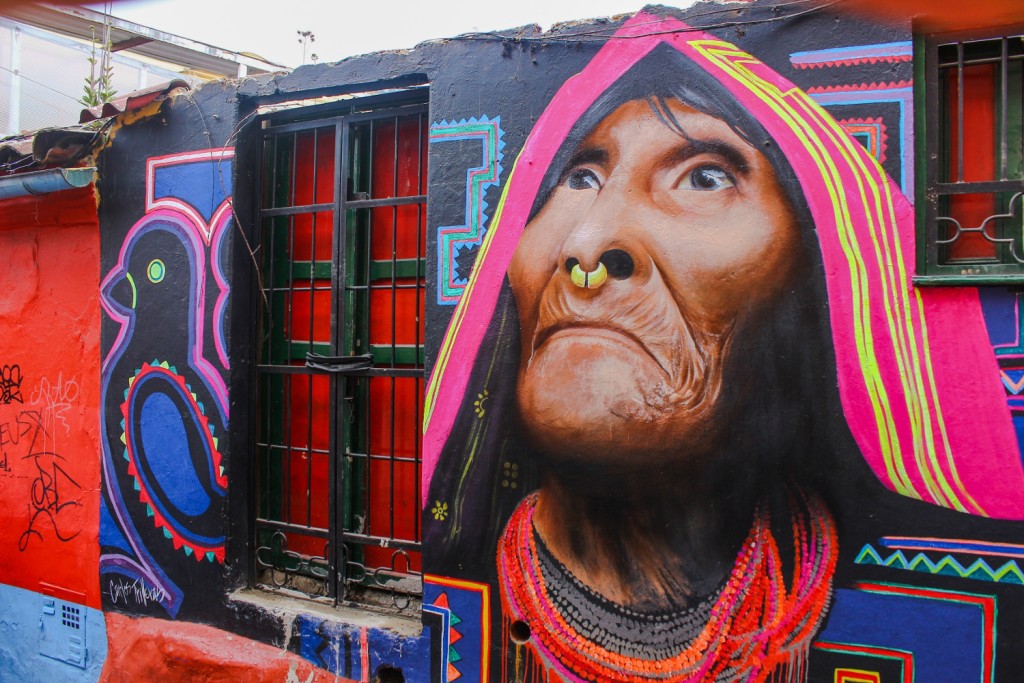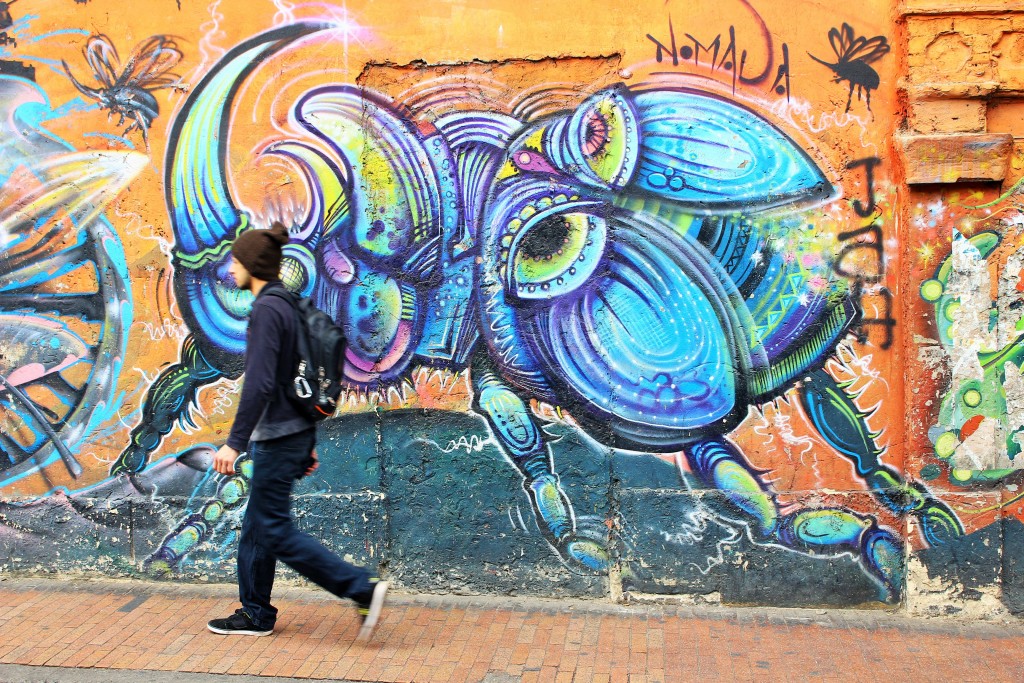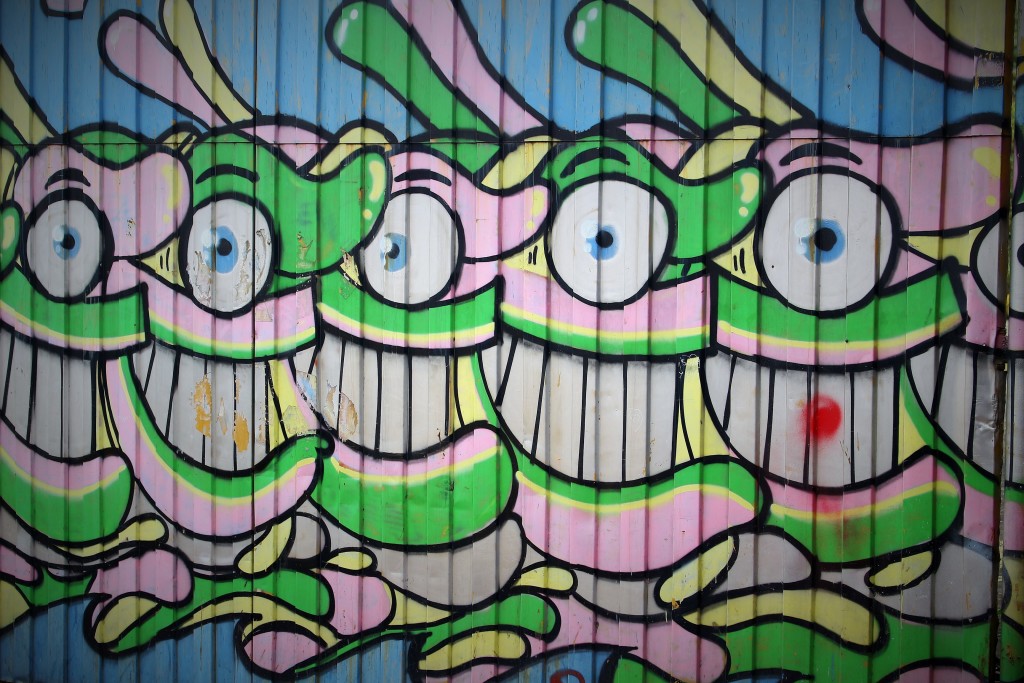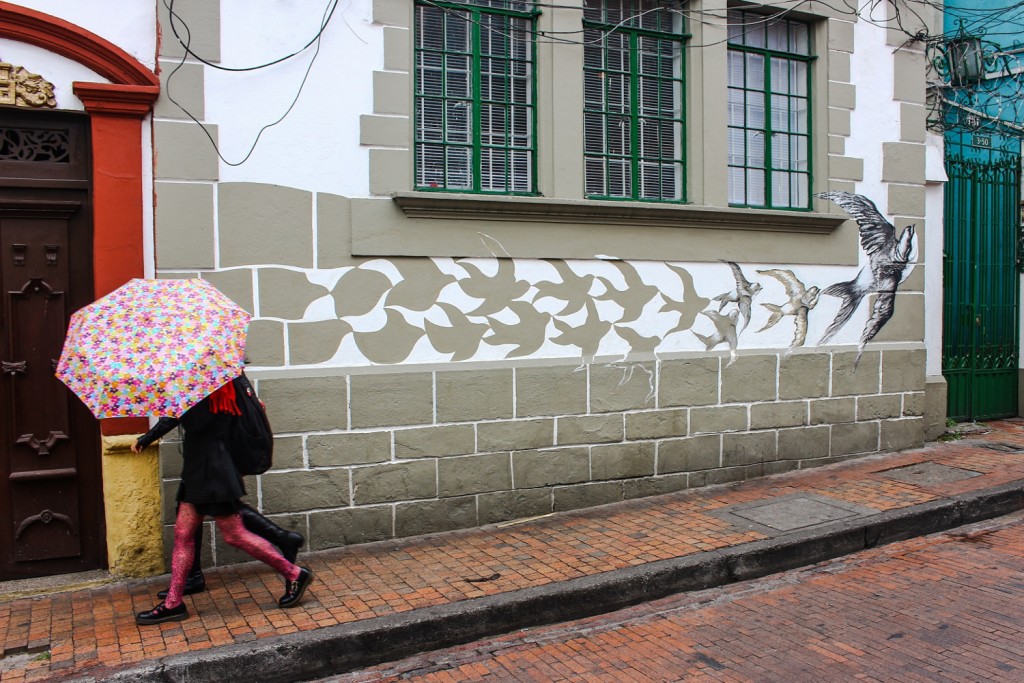 The graffiti below was scheduled to be repainted in a day, but the owner of the building invited the same artist to come back and paint a new painting in the place of the old one.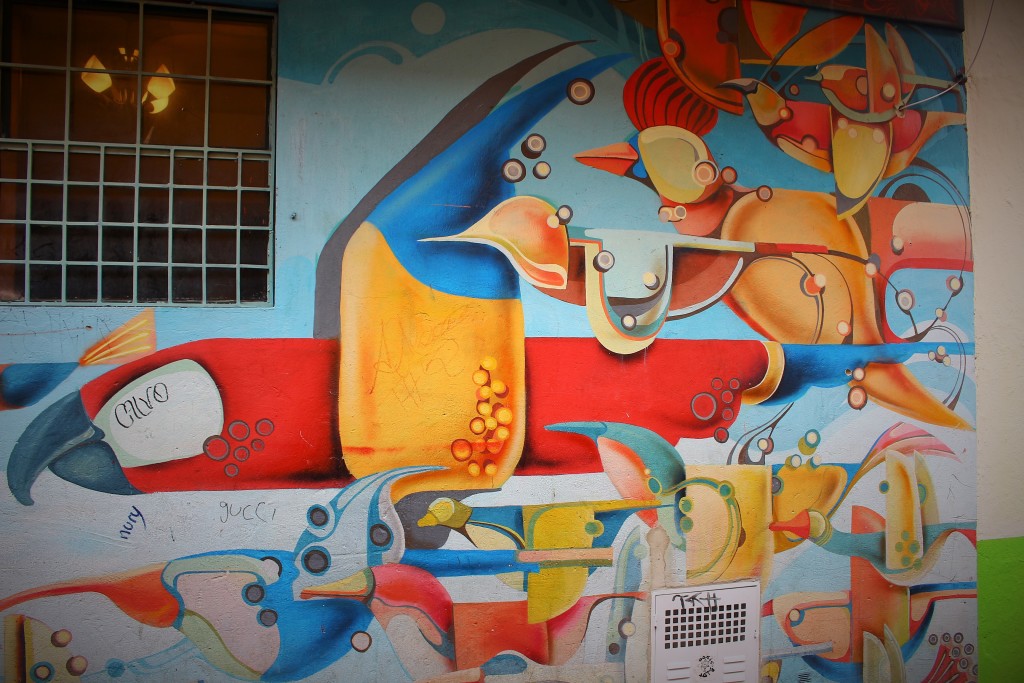 This tolerance towards graffiti took me by surprise. Unlike other cities the local government has somewhat legalized them after 2011 when police officers gunned down a 16 year old boy. The teenager was spray-painting his signature logo Felix the Cat under a highway bridge. When he was approached by the police, the boy started running away.  The officer claims to have mistaken the boy's spray can for a gun and fatally shot him. The incident caused a major outcry in Bogotá and was a catalyst for the city's current street art movement. As a result, these days artists are free to paint, spray and stencil wherever they want, with the exception of public buildings and monuments. The punishment for illegal tagging is a small fine and confiscation of paint. What is more, police protects artists and many paint during the day, resulting in better quality pieces of art.
I loved this artistic side of Bogotá. Once I started paying attention I noticed that most of the graffiti were actually super cool and they really brought color and vibrancy to the street, not to mention an element of surprise. The graffiti were not just contained to the commercial center and the historical district of La Calendaria. They were scattered all over the city!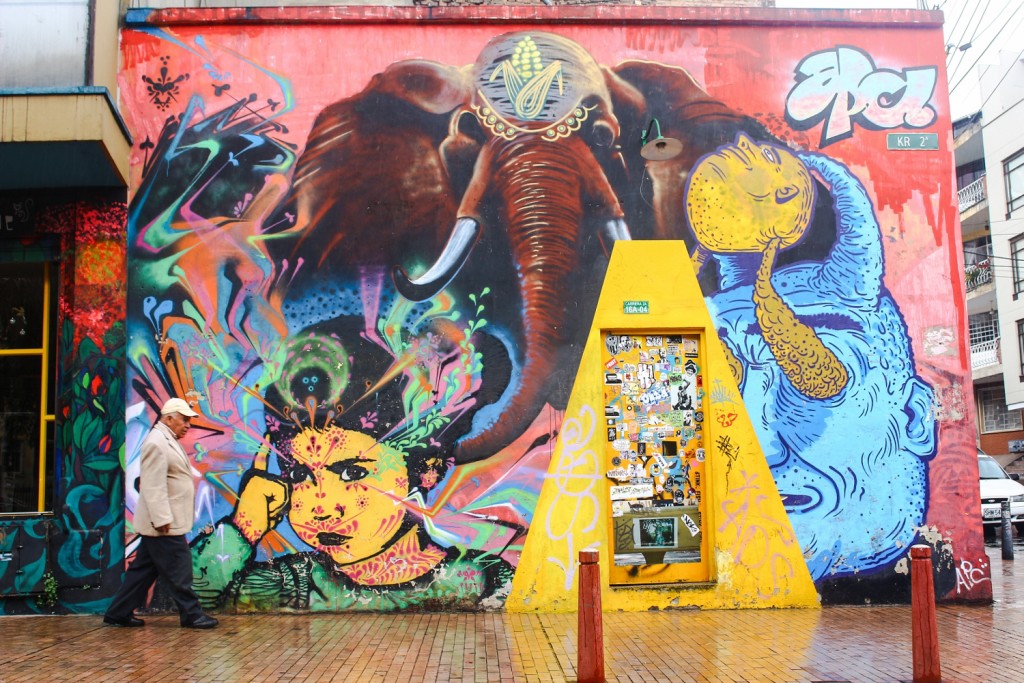 While we are on the subject of wall art – this is another example we saw in the area – a living, breathing, blossoming painting in green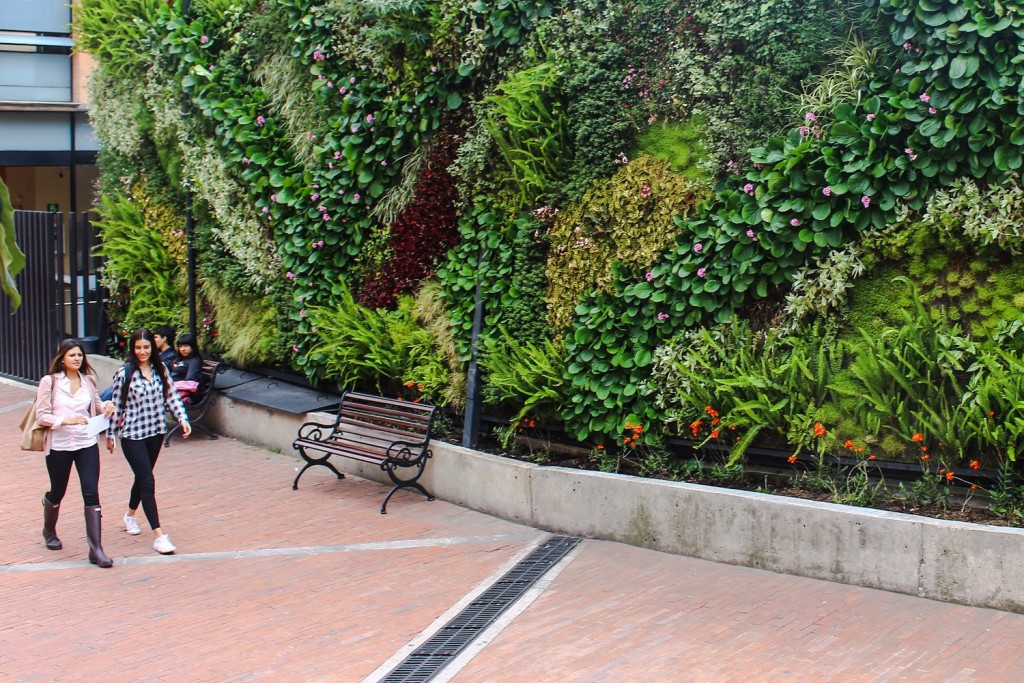 La Calendaria offers visitors so much to see that many don't even venture out. When we were in town there were Photography Exhibitions in different historic houses. We would stumble upon them by chance in different parts of the Old Town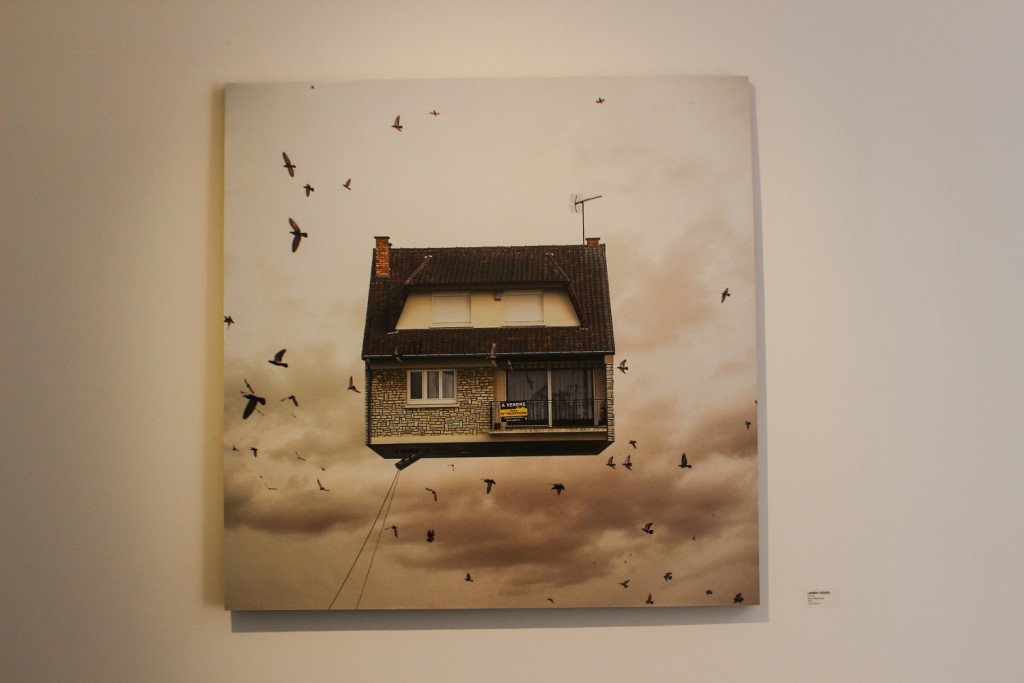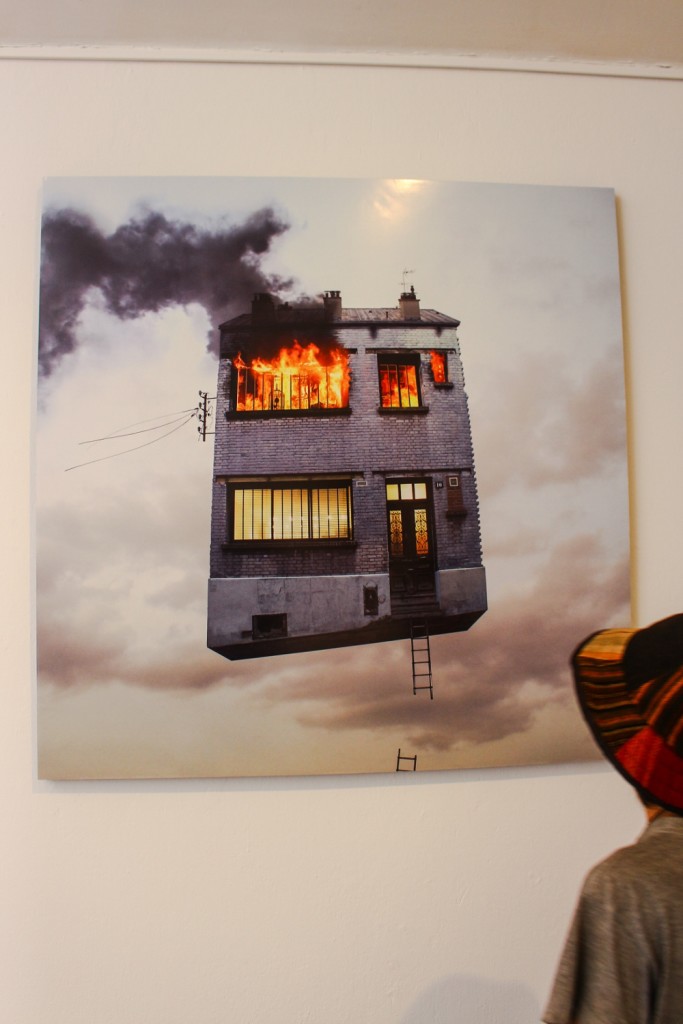 Tasty street snacks were sold on many corners. Plantain chips were not only colorful but hard to resist~
Modern Art Museum~
but the jewel of La Calendaria for me was
Museo Botero
The art of the Colombian painter Fernando Botero was another new discovery for me. His own work and his extensive art collection were housed in a beautiful colonial building. Entry was free, so we kept ducking in and out on a whim almost every day while in Bogotá. For me, the highlight of the museum was Botero's paintings and sculptures themselves, even though the collection had pieces of Georges Braque, Marc Chagall, Salvador Dali, Joan Miró, Pablo Picasso, Claude Monet and Henri Matisse.
Botero's whimsical art is united by the proportionally exaggerated objects and  fat figures, as the artist himself refers to them. Some of his pieces are genius, like the giant pear, the hand and the supersized Mona Lisa. The kids fell for his bronze sculptures of fat cats and ungraceful horces:)
El Centro Cultural
Gabriel García Márquez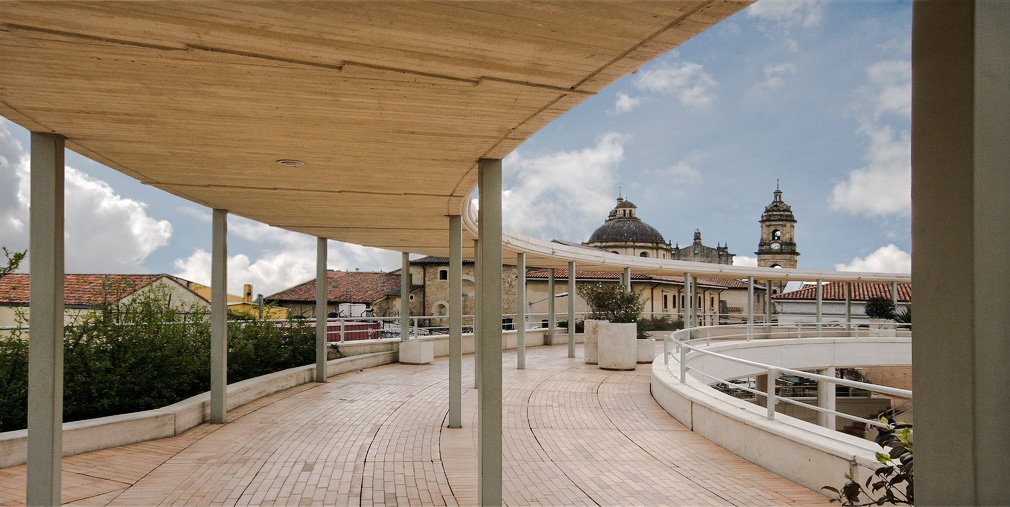 I was also not familiar with the work of Rogelio Salmona until a friend pointed him out and then took us around to see most of his public buildings in town. The easiest one to visit is El Centro Cultural 'Gabriel García Márquez' in La Calanderia. Here you can see Salmona signature style – exposed cast in place concrete, bricks for both walls and floor surfaces, geometric floor plans, connection between inside and outside, use of water as a design element and treatment of the roof as a fifth elevation.
Unfortunately Bogotá is famous for petty crime so we didn't carry our camera with us on the days we knew we would come home late. We don't have good photos of Salmona's other buildings, but they are nothing short of fabulous and worth a visit if you are interested in architecture. Here is a list of the ones we saw:
The Graduate School Building of the Faculty of Human Sciences at the National University
Virgilio Barco Public Library
The Environmental Axis along Jiménez Avenue
'Torres del Parque' Housing Complex
Museo del Oro
Gold Museum 
Another surprise was the Gold Museum. This was one of the best museums I had ever seen. Its three foors exhibit the biggest collection in the world of Pre-Hispanic gold work beautifully curated and presented. The gold objects, made of what to indigenous cultures was a sacred metal, testify to the life and thought of different societies which inhabited what is now known as Colombia. Pottery, rock geology stone, shell, wood and textile artifacts from different areas of the country give an insight into Colombia's cultural and ethnic diversity.
One can spend a whole day here and still want to return! The top floor has a creative art space for children and adults.
Free admission on Sundays.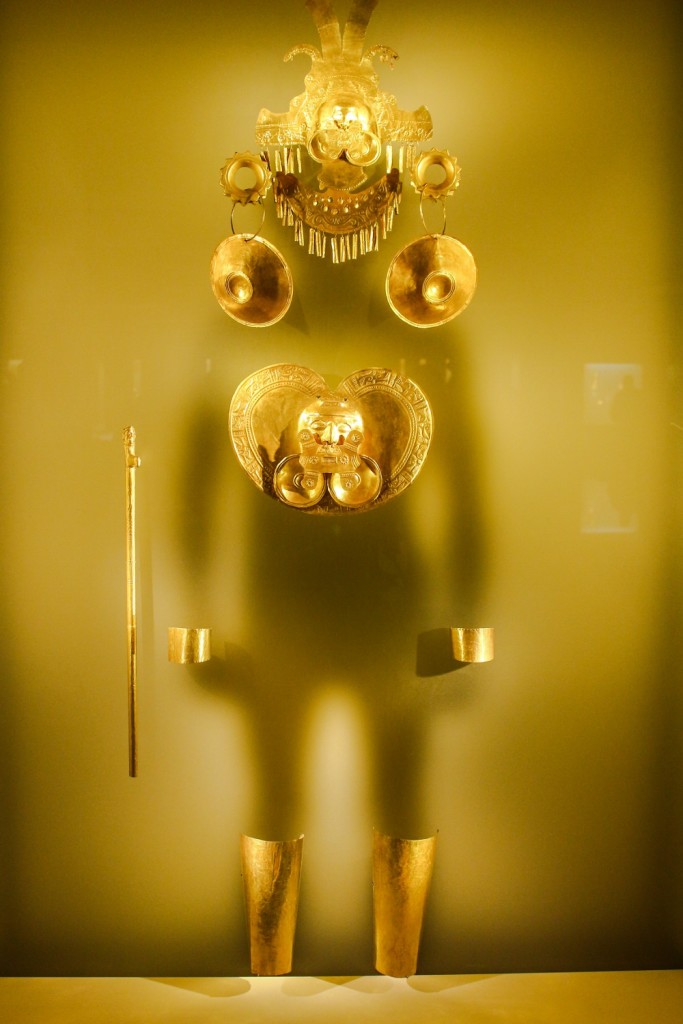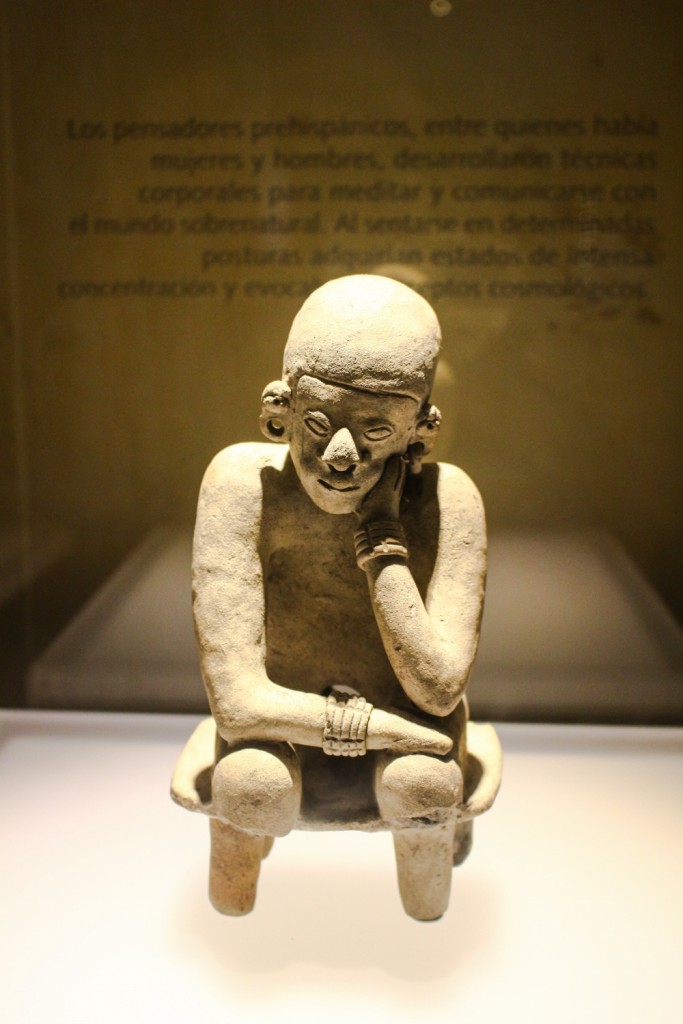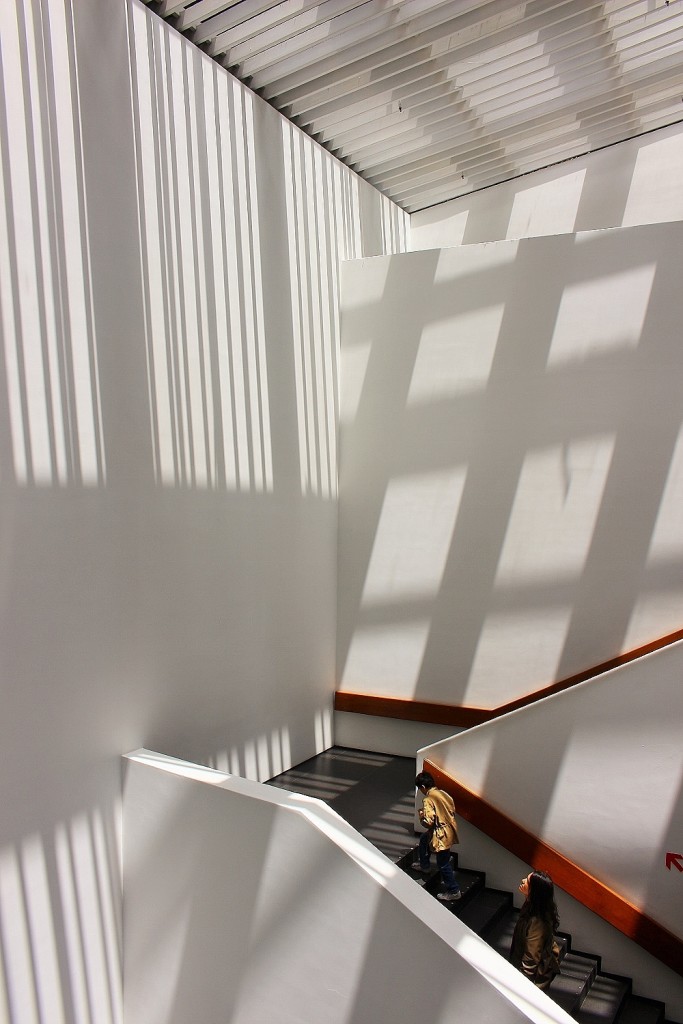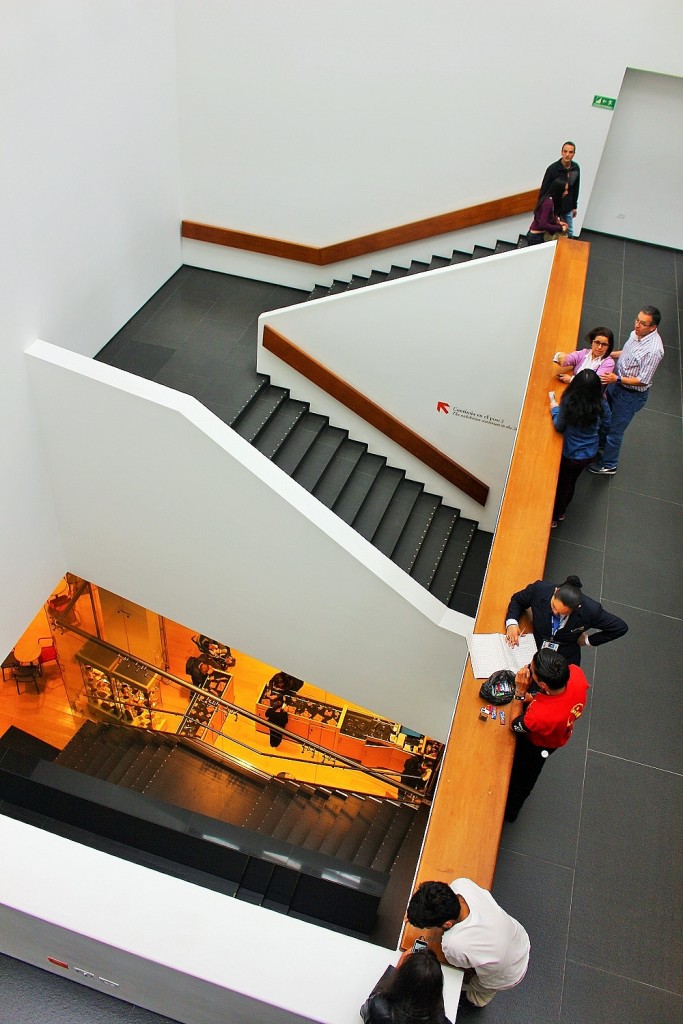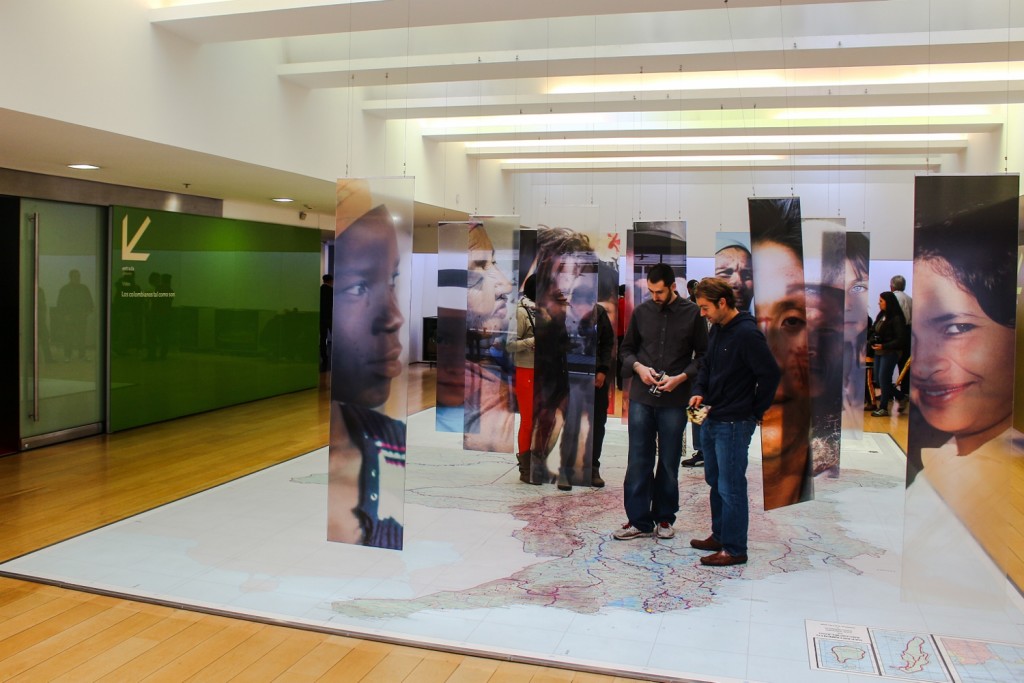 Moving away from the Historic Center and into the more commercial part of town the streets get grittier and busier, the buildings taller and the graffiti edgier and more political in nature. A graffiti that made a big impression on me and prompted me to read more on the subject was the one below.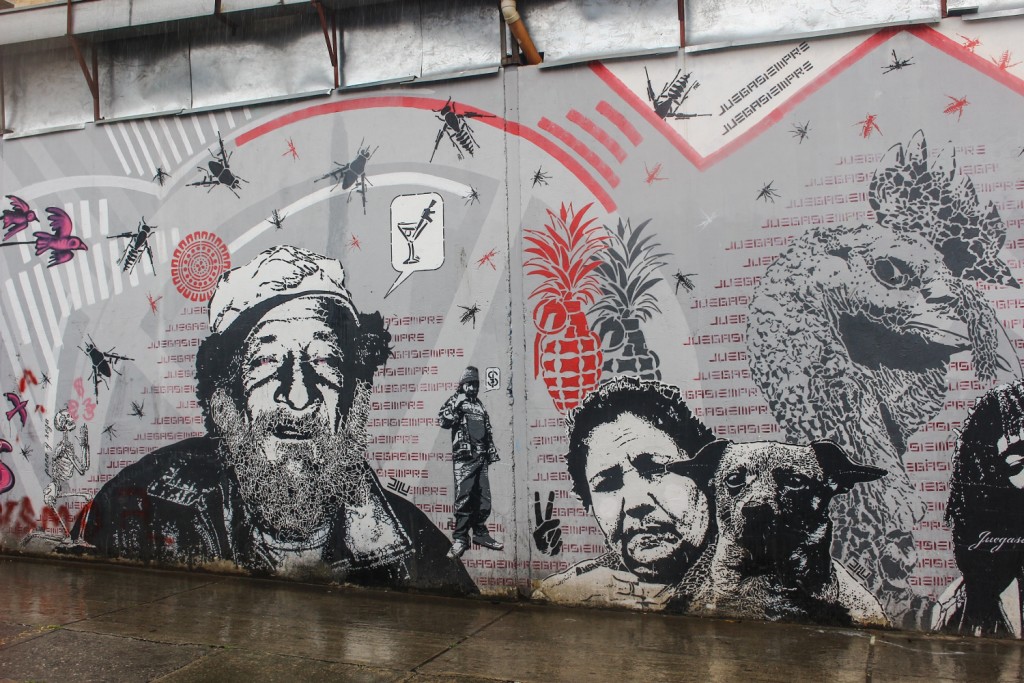 This is the work of DJLU, an architect whose signature spells Juega Siempre/Always Play. He is also behind all the small political stencils one can see all over La Calendaria. The piece above is about the unintended consequences from the US sponsored Plan Colombia, resulting in civilians, some homeless, being taken out of the city, dressed in guerrilla uniforms and executed in order to obtain the financial benefits offered to soldiers in a government-sponsored bounty scheme. You can learn more about the false positivo scandal here.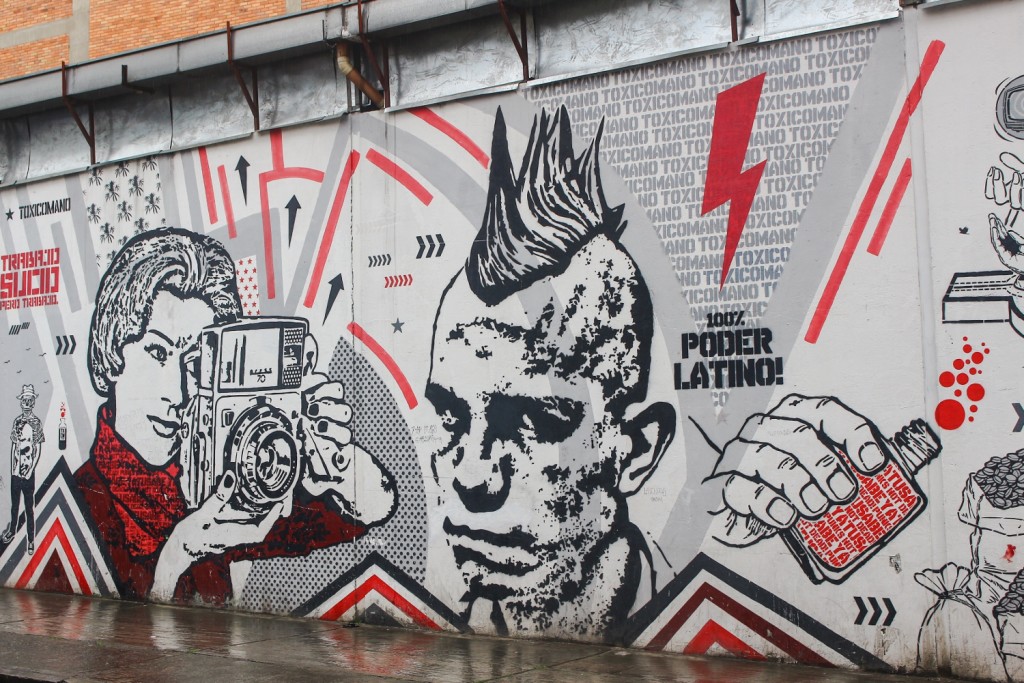 But if you ask the family what is the BEST part of Bogotá, the children will immediately scream out the name of our new friend Mauricio, who gave us his full attention for the eleven days we were in the city. Miraculously he had nothing better to do than to show us around his home town – spending time with him was like taking Colombia 101 – a crash course in everything Colombian. We were lucky that as an artist he shared all of our passions – art, music, architecture, not excluding good food and adventure. With him we saw a part of the city that not many outsiders probably do. We got to eat in local eateries, visit the disadvantaged children he had been volunteering with for years, watched Jupiter with a telescope from his 17th floor flat and learned the art of weaving colorful bracelets. Mauricio was also a bicycle lover so he showed us that
Bogota is One of the most Bike Friendly Cities in South America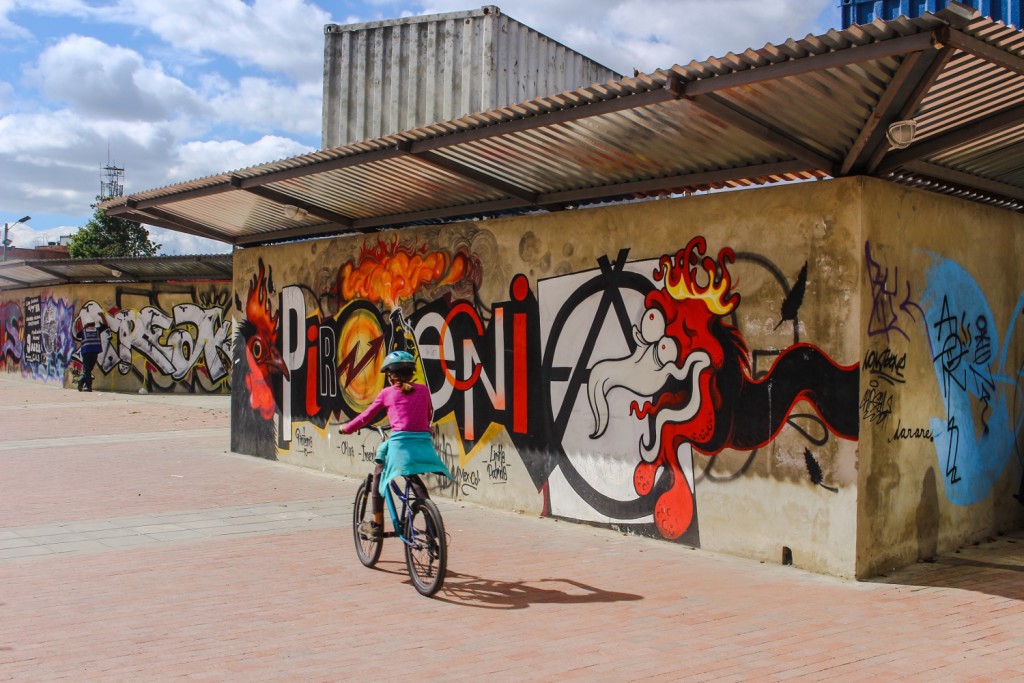 Bogotá certainly puts USA with its car dependency and lack of green ways to shame. The capital has around 350km of dedicated cycle lanes! As if that is not enough every Sunday there is Ciclovía – 120km of the capital's main highways are closed to traffic and cyclists rule the roads. I loved seeing the streets full of people jogging, roller skating, running or just strolling. It was also amazing to witness how the new bicycle paths have successfully revitalized previously dangerous popular neighborhoods.
We took full advantage of the bicycle lanes visiting the Central Market – a universe of new flavors, fruits and treats, Cementerio Central de Bogotá – an eye opening in understanding Colombian history and coming to grips with the fact that most of the liberal leaders resting at the cemetery have been assassinated, the National University Campus housing the famous Salmona library and the brand new spanky building of the Science and Technology Department~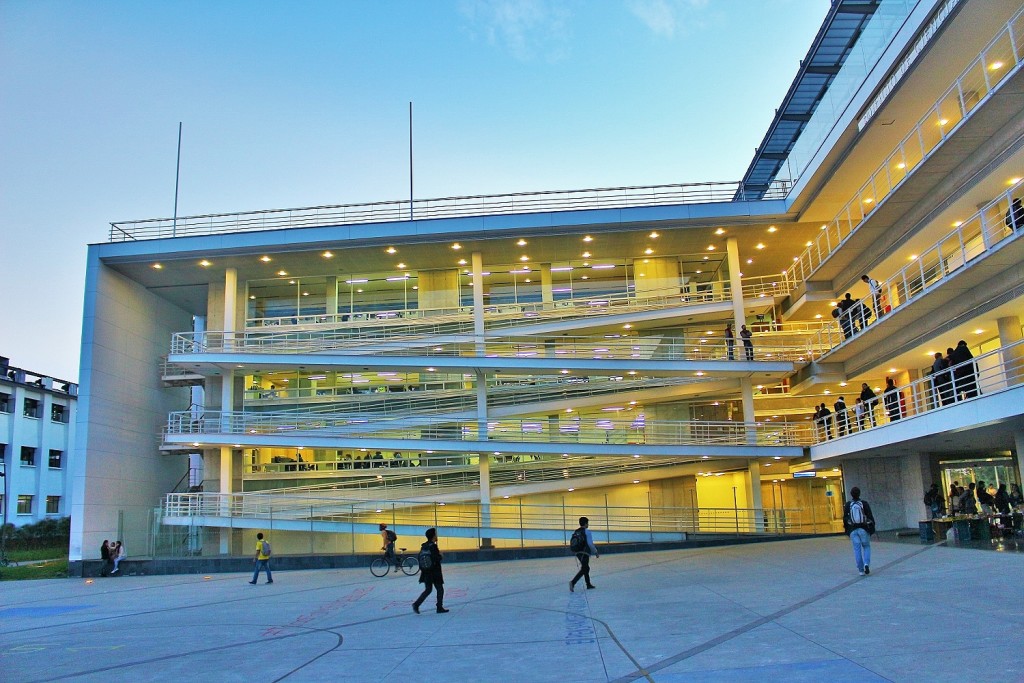 The Peace and Reconciliation Center~
seeing so much color on the way~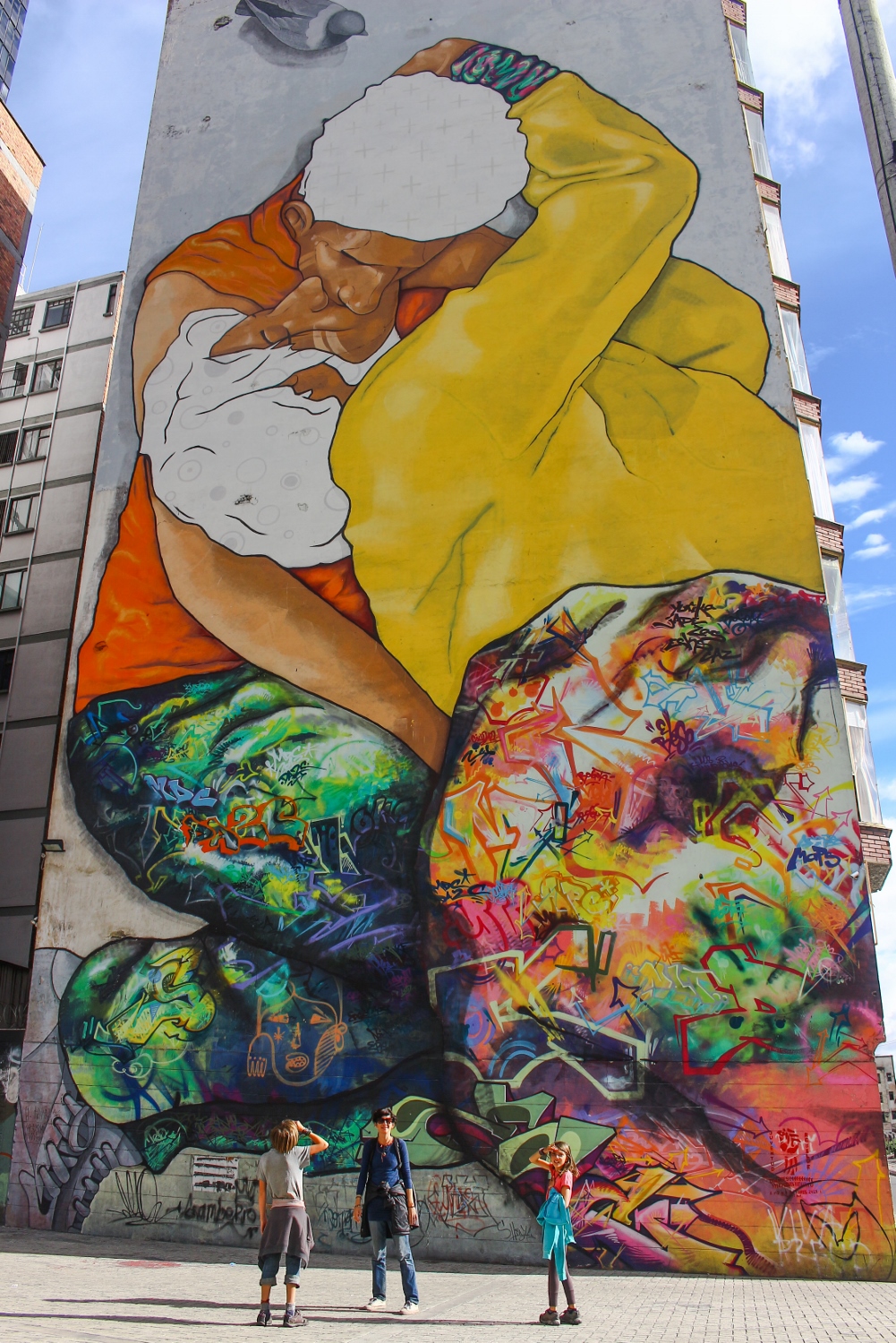 But to discover if Bogotá is colorful or gray for you, you have to visit.
One day.
~M