We didn't arrive in Cuzco with the idea of hiking the Salkantay. We didn't even know that this hike existed, but strolling around the city we kept on seeing the posters for 5 days/4 nights Salkantay trek pretty much in every tourist office so after a while we decided to investigate.
The hike seemed to be our cup of tea but the price tag was over our daily budget. Prices we were quoted on the spot varied between $165/person (without a return transport included from Machu Picchu to Cusco), to $400/person, all inclusive with a train ride back to Ollantaytambo and then bus to Cuzco. All packages had the entry ticket to Machu Picchu included. Extra costs: sleeping bags at $2/day/bag, shoes if needed at $2/day/pair, drinking water, walking sticks, extra snacks and additional activities, tips for guides, cooks, porters, camping places, etc. We figured out that the cheapest our family of four could do the hike with an organized tour would be around $850, but going with the lowest price meant that the quality would be unpredictable. After a day of comparing different companies we decided to simplify things and venture out on our own. 
From that moment on gathering information proved to be difficult. Tour operators tried to scare us by saying that hiking in Peru is unlike hiking in any other mountain. According to many solo trekking was dangerous not only because of the altitude but also because we could possibly meet some really bad people! I kept imagining us in the role of the little red riding hood surrounded by big bad wolves:) In one tourist office we inquired about transport to the start of the hike and instead we were subjected to an endless emotional monologue in Spanish that touched on all the possible threats to our emotional, psychological and physical health if we decided to do Salkantay on our own. The South American Explorers Club was of no help either. Their topo map of Salkantay was for sale for $22 and the lady in charge was not happy to even answer our question about public transport to Mollepata. If we were members, things would have been different, but we were not.
So in a nutshell, if you decide to hike independently, just proceed without asking tourist offices for information. Also, check and double check any hiking equipment that you rent. Tour operators might be concerned about your safety but some will still try to trick you with shitty sleeping bags suitable for a tropical beach. Nights at Salkantay are cold, so plan on having a -15 deg. sleeping bag. 
We left for the trek with no map and with trepidation that we were about to jeopardize 'the life and the well being of our children'. None of our fears proved to be justified, so I decided to write about our experience so you won't have to go through the doubts we had to deal with.
Day 1 – 7 hrs.
Got up at 4 am and walked to the parada for the Mollepata's micros (any local person will be able to direct you to it). We had to wait for 45 min for the mini bus to get full. Arrived at Mollepata around 7.30 am. From Mollepata it was very easy to arrange transport all the way to Sorayapampa, but we wanted to hike the 20 km. At the square we headed up the street in front of the church until we reached a T. This was where we saw the first blue sign marking the trail. Because of these new signs there is absolutely no way you can get lost! The whole trail turned out to be beautifully marked, from the beginning to the end. Do not fear taking the trail instead of the road. From what I saw the road was dusty, endless and boring. It would be a torture to walk on it for hours:)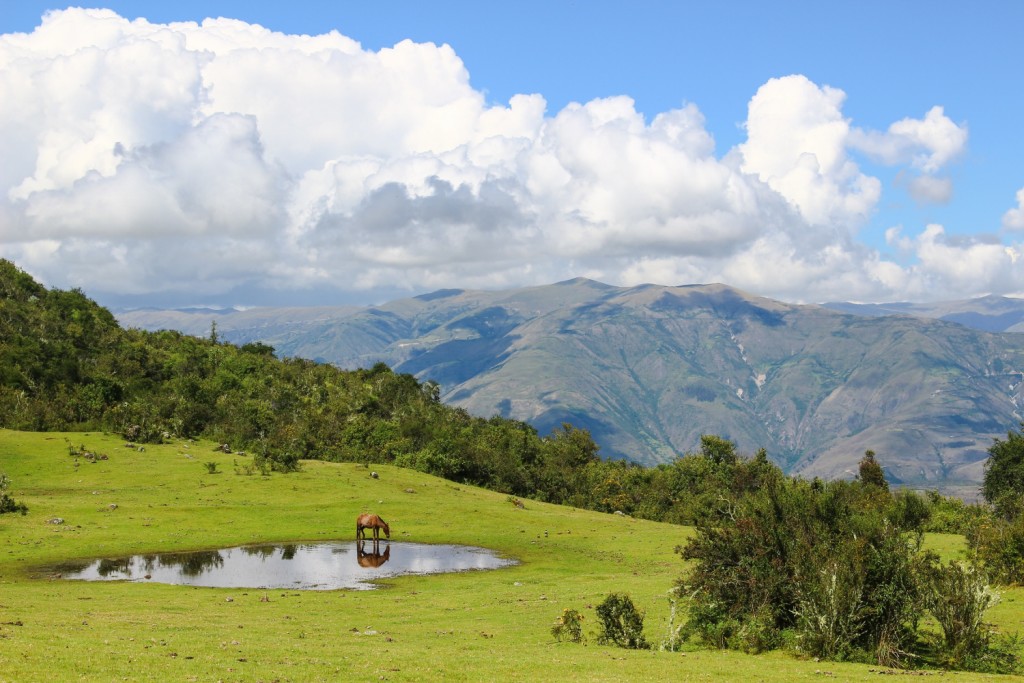 The beginning of the hike turned out to be challenging as the weather was hot, our packs were loaded and the path was mainly uphill. We took it slow allowing for plenty of breaks. Stopped for lunch at the Mirador above, surrounded by horses and mountains on all sides.
Around 4 pm we caught a glimpse of the snow peaks in the distance. Breathtakingly beautiful!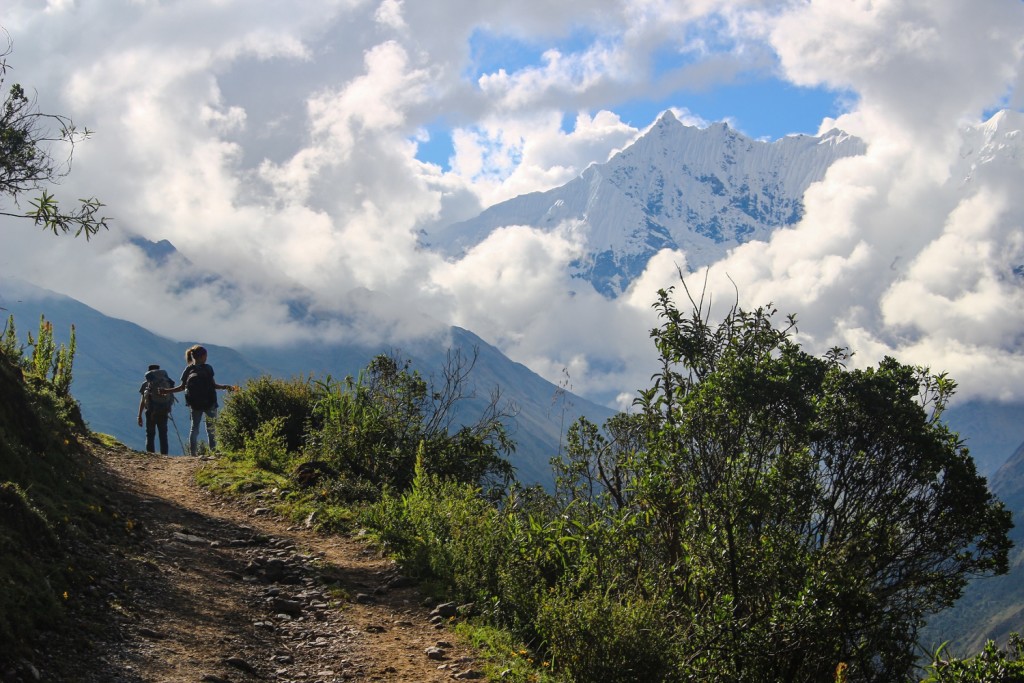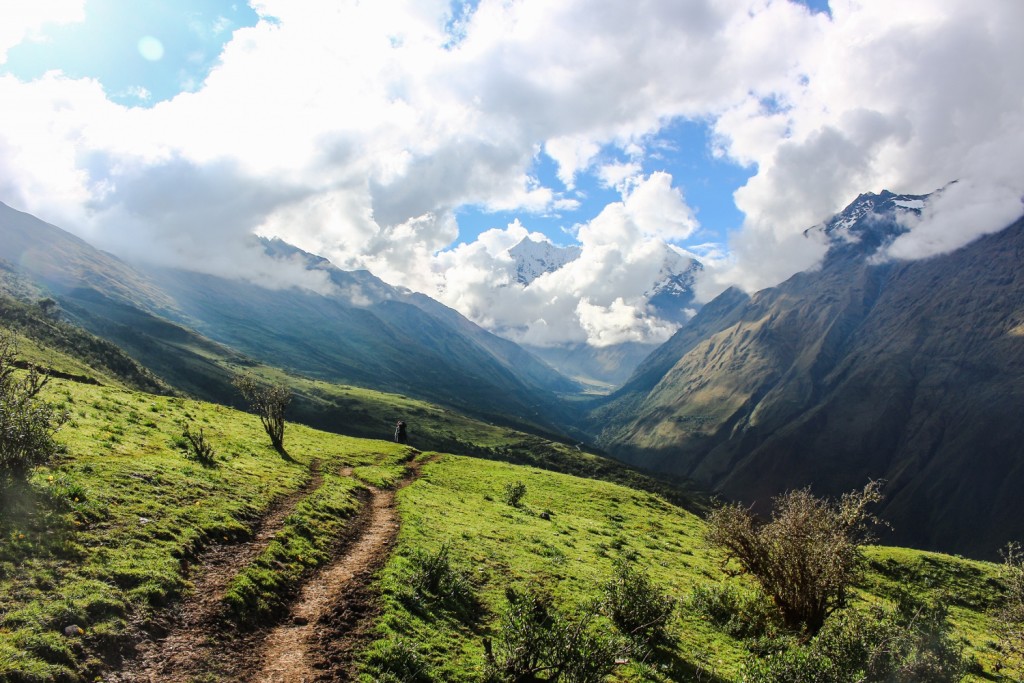 By 5.15 pm though we had reached the point of complete exhaustion and were ready to call it a day. 1 km from Sorayapampa a friendly lady invited us to camp on her property for free. Unpacking our tent we found out that we had a problem with one of the tent poles, but it was too cold and too late in the day to try fixing it in the dark. Dang! I imagined headlines 'Polish Bulgarian family freezes overnight at the foot of Salkantay'. The sweet lady saved us from newspaper fame by housing us in her house for S/.50 in a modest and clean room with two beds and no electricity. We fixed the tent, ate dinner and hit the sack early thinking about the day ahead – 10 hrs of continuous walking needed to go over the 4625 m pass to reach Chaulley.
Day 2 – 10 hrs
We didn't start as early as we wanted to as getting up in cold darkness in not our forte. We managed to strap our backpacks on around 7.45 am, long after all the tour groups ahead had departed, thus we didn't even see them. It was just us and the giant snowy mountain in front bathed in brilliant morning light. 30 min after Sorayapampa we passed a great camping spot by the river. I wished we had camped there instead, but then I remembered that we didn't even have a tent the previous night.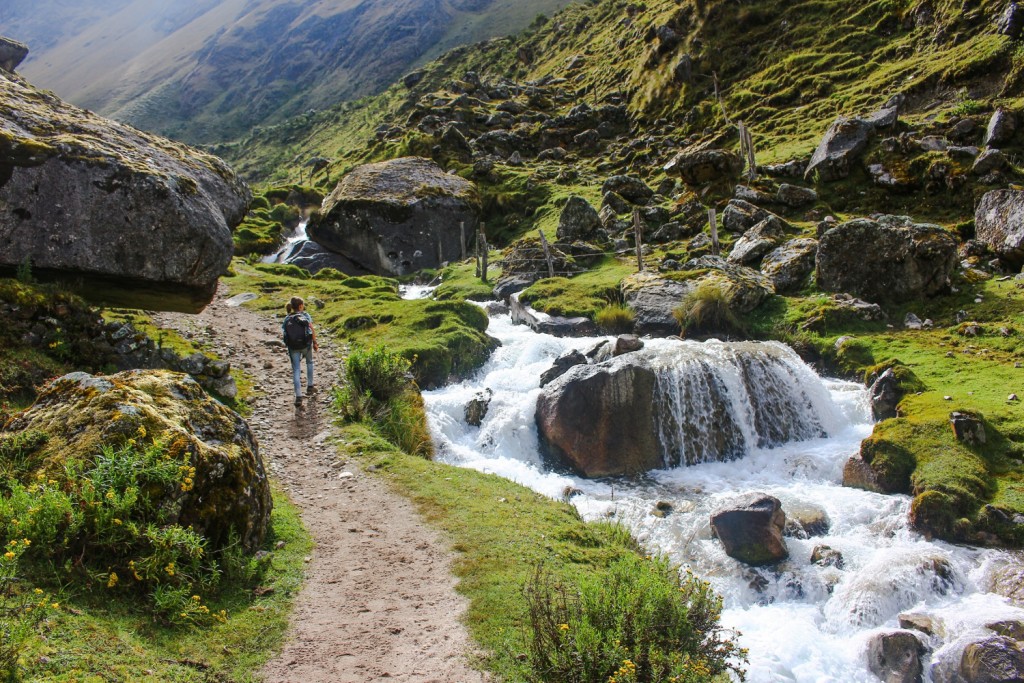 Even though it was the dry season once we got to 4.000 m it started to drizzle and it didn't stop for hours. Very quickly we got cold and wet. The weather up high is unpredictable so make sure you have warm clothes, rain gear and decent shoes. Mine got soaked in no time:(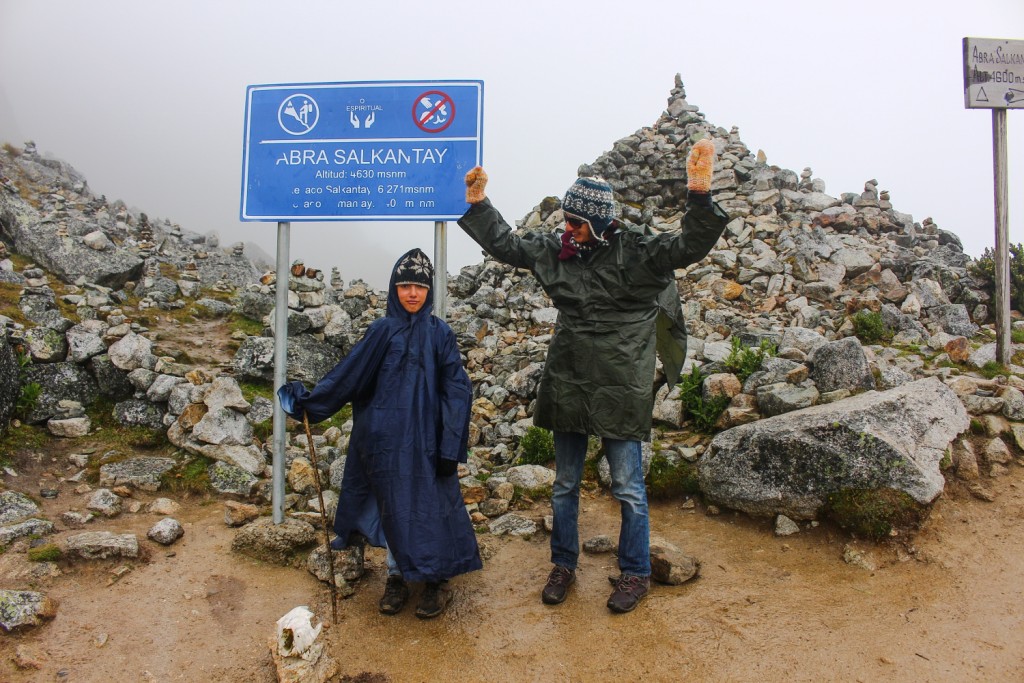 Going down from Abra Salkantay was slow. Trekking poles would have been helpful as some parts of the path were like mud ski runs. We improvised with wood sticks. The weather was wet and we didn't have time for a decent lunch, so we just had a quick bite and kept on walking. 2-3 hrs below the pass there was a place to stay for the night and further down we passed by a campsite. After that the path got super steep on both sides and the descent seemed endless. Around 6 pm we arrived exhausted in Chaulley. It was pitch dark. We dumped our heavy packs at one of the campsites. The friendly owner offered us free camping. S/.10 bought us a delicious dinner. S/.10 more got us much needed beer.
Day 2 was very beautiful. The hike started at the open landscape of Sorayapampa, climbed towards majestic snowy Nevado Salkantay and Nevado Huamantay and then sharply descended into a cloud Forrest. Just be prepared that this will be the longest and the most challenging day on the trek, so give yourself plenty of time. Also, there was plenty of water sources on the trail – no need to stock up.
Day 3 – 5 hrs
This was supposed to be a short and easy day compared to the previous two, so we chilled in the morning and made friends:)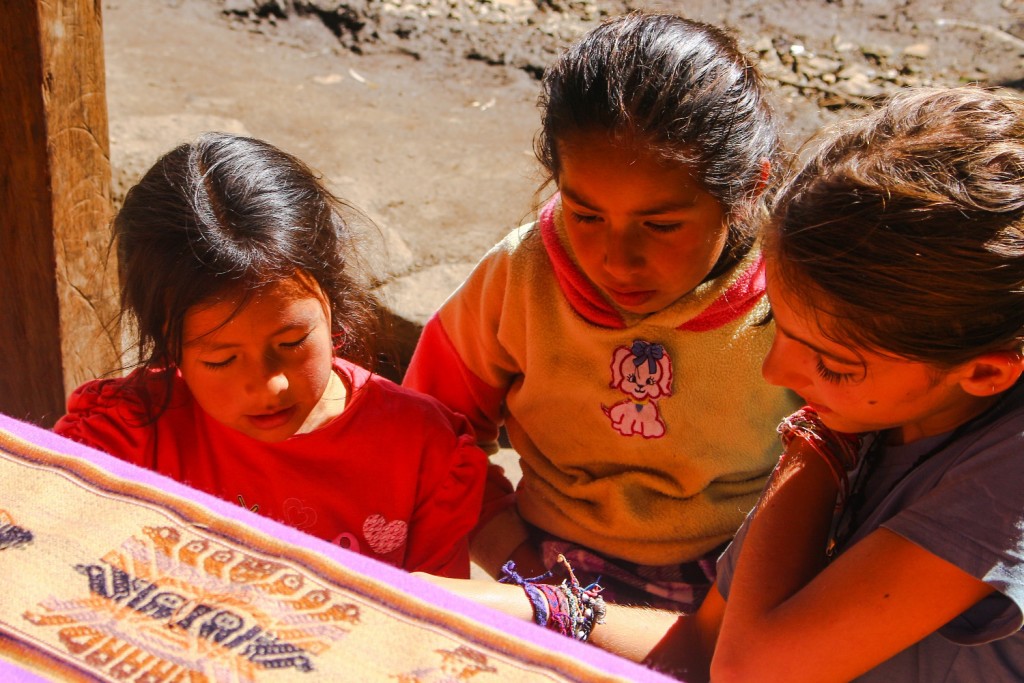 30-40 min after Chaulley there was a surprise waiting for us. From the road we saw two beautiful swimming pools nestled next to the river, both filled with mineral water. The setting couldn't be prettier. Entry was S/.5 per person and we were completely alone except for the man minding the pool. How can you pass this spot without making a stop?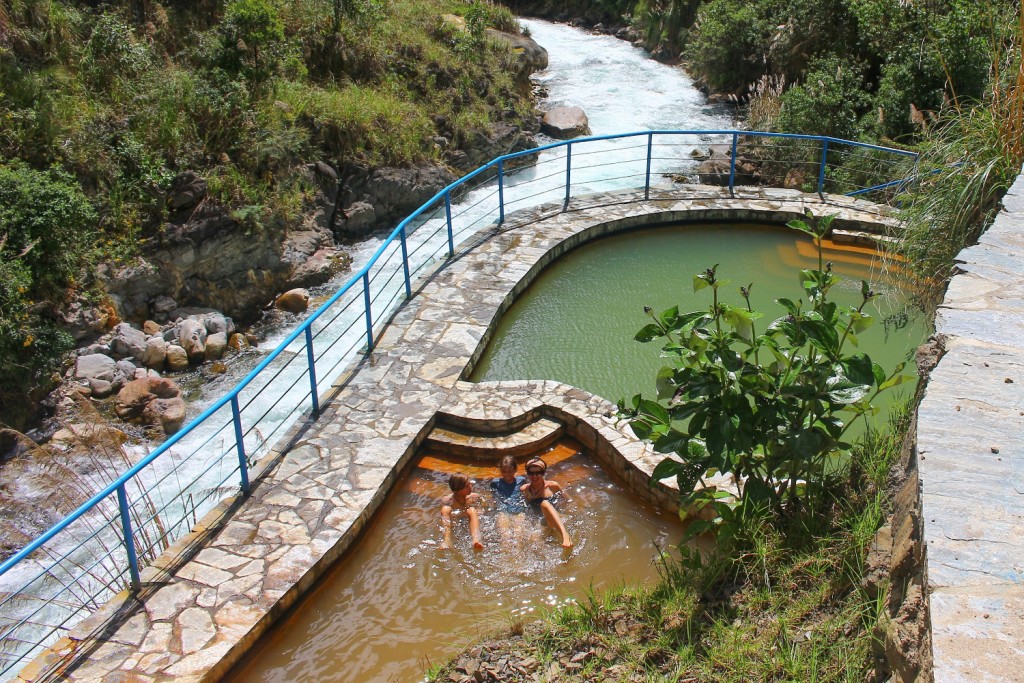 After soaking for an hour we continued on the path towards Playa which crossed the river next to the pool. It might be a good idea to check on the trail condition with local people. A mudslide in the middle between Chaulley and Playa could be challenging to navigate during heavy rain. Unless the trail is not passable I don't recommend hiking on the road. We saw some people choosing to continue that way, but from what I saw the road was under merciless sun all day and there were vehicles passing now and then, caking everything in dust.
Playa was somewhat of an eyesore. We continued on the Lucmabamba- another 30 min of hiking. At the first house a cute grandpa took us to a beautiful campsite right next to the soccer field – both the campsite and the soccer field were not visible from the road, so just ask. There was a shop at the campsite so we could stock up on food. They had !APPLES! bananas, eggs, avocados and hot shower for S/.5. The owners owned the coffee plantation above the camp and they took time to explain the local ways of processing of the coffee beans. At the end we were gifted a can of locally grown coffee. My coffee addict of a husband was in heaven.
Day 4 – 5.5 hrs
In the morning we discovered that all the camping in Lukmabamba was in coffee plantations. Sleeping in one was not a 'special feature' as advertised by many agencies, rather it was the norm.
Lukmabamba was the place where all the organized groups of hikers loaded their luggage in mini vans to be transported to Aguas Calientes. For S/.10 we got one of our backpack loaded to the brim and sent it with the porters of a group to wait for us at Hidroelectrica. Lightening our load was a huge help as the trail of the day was not easy. We had to climb 360 m up and go down 830 m.
The path up was an old Inkan trail. By 11 am we reached the ruins of Llactapatatha, an Inkan rest stop and roadside shrine on the journey to Machu Picchu. From here we got our first glimpse of Machu Picchu in the distance! I would have loved to camp here and wake up to the amazing view:)
We got to Hidroelectrica around 2 pm, had lunch, retrieved our overloaded backpack and started walking on the railroad towards Aguas Callientes at 3 pm. 3 km before AC we stumbled upon a place that looked inviting – Los Jardines de Mandor. Too tired to keep on going we decided to stop. We paid S/15 for a camping spot and left the kids with the responsibility to set up camp, while we continued walking the 3 km to AC to buy our Macchu Picchu entry tickets for the next day.
Staying at Los Jardines de Mandor proved to be a brilliant move. I loved the vibe of the place compared to the Municipal campground and everything else we saw in AC.
Day 5 – Macchu Picchu!
Surprisingly we walked a lot on day 5, but at this point climbing up a hill had become our specialty and we didn't mind negotiating the endless steps up the hill to the entrance of MP. It took us 1.5 hrs to get there, faster on the way back. There we bargained with two guides – one who only spoke Spanish and one who offered English. Spanish proved to be cheaper, so we asked the guide to speak slowly and then let him walk us around for 2 more hours:)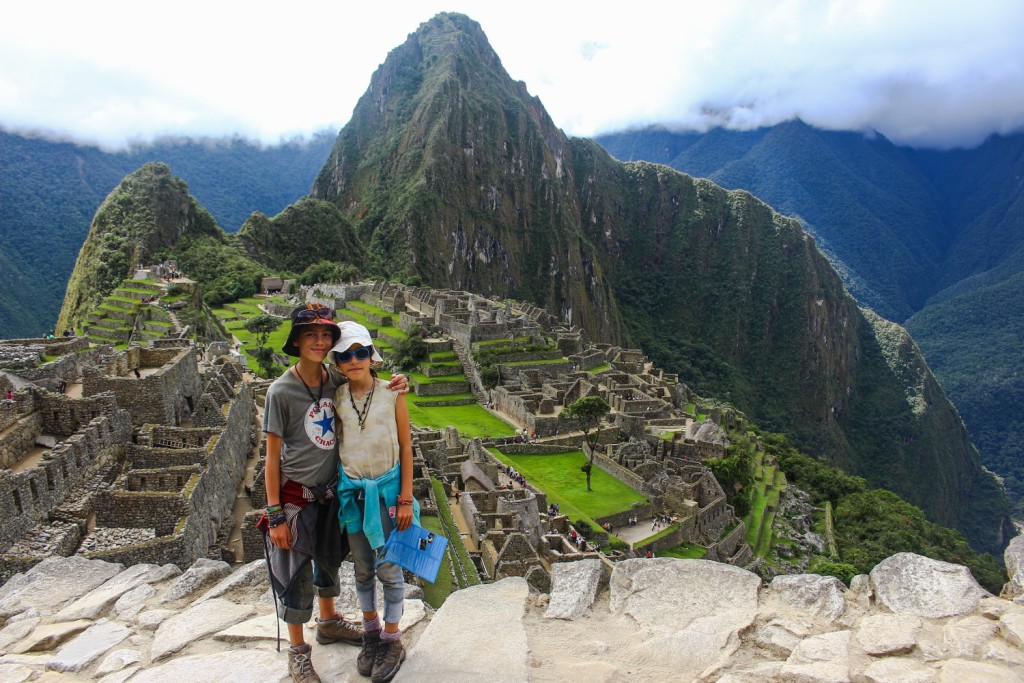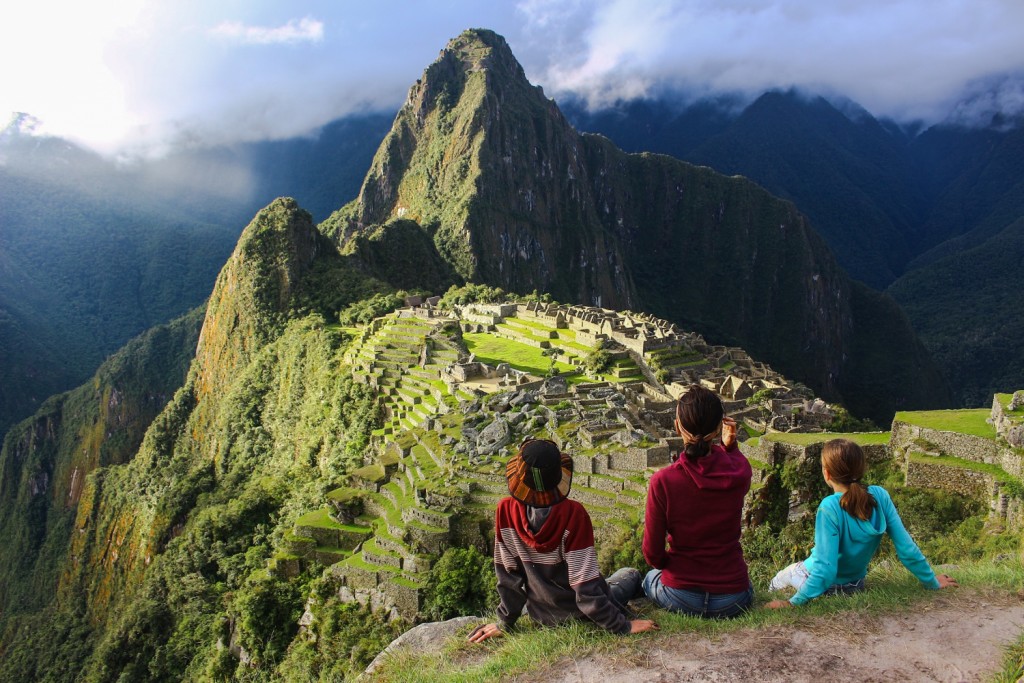 Salkantay trek was very easy to do on our own. It required minimum preparation, the trail was well marked and we were never too far away from help if we needed any. The main challenge was the high altitude on Day 2 and the tiresome long days at the beginning of the hike when our backpacks were heaviest. 
Is Salkantay trek worth it? Yes. The scenery was fantastic!
Did the trail feel safe? Absolutely! Everyone we met was super friendly and eager to chat. Not once we felt threatened.
On the trail we were in wilderness but there were locals and small homesteads all along the trail. The only section that was not accessible by vehicle was Sorayapampa to Chulleay, but even there groups of horses with horsemen passed by pretty often.
Is there a fee to hike Salkantay? Nope.
How much money did we spent? Prices below are for 2 adults and 2 children:
Sleeping bags $46
Shoes $12 (1 pair)
Cooktop and gas bottle $23
Decided to buy one instead of renting. Make sure you use up the gas containers if you have to board a plane. We had to leave one at the Lima airport as gas containers are not allowed on the plain.
Batteries for lights and water purifier $16
Transport to Mollepa $20
Machu Picchu entry tickets $128 (2 adults and 2 children)
Food $100
Transport back to Cusco $40
Camping/Room $23
Random $15
Machu Picchu guide $27
Total cost came to $450
After the trek we didn't go straight to Cuzco but hung around in Ollantaytambo for a few days- a great place to chill and explore:)
Happy Trekking and if you have a specific question just ask away!
~M.